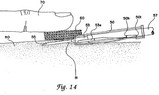 DSU Medical v. JMS (Fed. Cir. 2006) (en banc)
The interesting portion of this opinion rests in Section III.B, where the CAFC convened an en banc panel to clarify that "inducement" of infringement requires intent to induce actual infringement, which necessarily requires knowledge of the patent.
Section 271(b) of the Patent Act spells out the tort: "Whoever actively induces infringement of a patent shall be liable as an infringer."
Applying the language of Grokster, the CAFC clarified that in patent cases, "the intent requirement for inducement requires more than just intent to cause the acts that produce direct infringement. . . . [I]nducement requires evidence of culpable conduct, directed to encouraging another's infringement." According to the court, this culpable conduct requires knowledge of the patent and an intent to induce infringement of the patent.
As Kevin Noonan has noted, the distinction in this case is that "there was evidence (an opinion of counsel and testimony from corporate officials) that the defendant believed that the accused behavior was not infringement. Thus, CAFC said the evidence supported the trial court's finding that the defendant did not intend to induce infringement, which was the mens rea required for liability under 35 USC 271(b)."