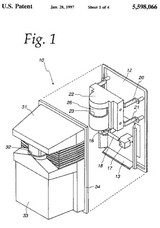 DESA IP v. EML Tech and Costco (Fed. Cir. 2007 – NONPRECEDENTIAL).
DESA owns a patent directed to motion-activated security lights. The lights have a low-level always-on illumination as well as a bright security illumination that is activated when motion is detected by a passive infrared motion sensor. During infringement litigation, the district court construed the claims and consequently entered a stipulated judgment of noninfringement.
The appeal focused on whether the disputed claim phrases — "sensor means," "control circuit means," and "switching means" — should be interpreted as means-plus-function.
The use of the word "means" in the claim language invokes a rebuttable presumption that § 112, ¶ 6 applies; conversely, the failure to use "means" invokes a presumption that § 112, ¶ 6 does not apply. . . . Nonetheless, the presumption that § 112, ¶ 6 applies may be rebutted if the claim recites no function or recites sufficient structure for performing that function.
Distinguishing earlier precedent, the CAFC determined that neither the sensor, control circuit, nor switching pre-means terms recited sufficient structure.
DESA argues that this court has previously stated that "it is clear that the term 'circuit' by itself connotes some structure." In Apex, however, the word "means" was not used, so the reverse presumption—i.e., that § 112, ¶ 6 does not apply—was invoked.
Regarding interpretation of the claims, the CAFC found that the district court had improperly given the terms a narrow construction by focusing on the preferred embodiments and the figures.