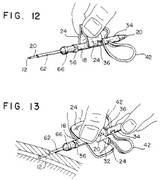 MBO v. Becton Dickinson (Fed. Cir. 2007).
MBO's patent is directed to a hypodermic syringe that helps avoid needle sticks. After claim construction, the district court awarded summary judgment of noninfringement to BD.
On appeal, the CAFC recited the rules for claim construction sources:
The most relevant source is the patent's specification, which is "the single best guide to the meaning of a disputed term." Next in importance is the prosecution history, which is also part of the "intrinsic evidence" that directly reflects how the patentee has characterized the invention. Extrinsic evidence—testimony, dictionaries, learned treatises, or other material not part of the public record associated with the patent—may be helpful but is "less significant than the intrinsic record in determining the legally operative meaning of claim language."
Essential Feature: Several of the asserted claims include a preamble precluding needlestick injury "immediately and positively." Interpreting the term "immediately," the CAFC determined that an "essential feature" of the invention is ensure a safe needle immediately "upon removal from the patient." (rather than immediately after some other event).
The patentee here has clearly indicated via the specification and the prosecution history that the invention provides, as an essential feature, immediate needle safety upon removal from the patient. It is therefore appropriate to construe the claims so as to ensure that they, too, require that feature.
Interestingly, two of the claims did not include the 'immediate' language. For those claims, the court could find no textual hook for inserting the essential feature and thus did not burden those claims with the immediacy requirement. Between the lines, the court implied that it could have found a textual hook through other claim terms, but stated that it "lack[ed] the power to construe other terms not disputed by the parties."
Impermissible Recapture: Claim scope which has been surrendered in order to obtain issuance of a patent cannot be later reclaimed through a reissue proceeding. The district court found that MBO's patent had improperly expanded the scope of a term and thus construed the terms meaning narrowly.
On appeal, the CAFC held that the recapture rule should not be used to rewrite claim language. Although claim construction should be applied with an eye toward validity, that maxim should only be applied at last resort. Rather, the court should first construe the claims and then later determine if the broadened claims are valid .
Whether those broadened claims are invalidated by the recapture rule is an issue separate from construction.
Affirmed-in-part, reversed-in-part, vacated, and remanded.