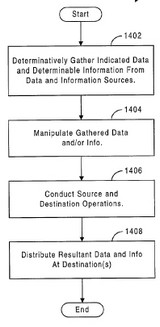 Published patent application No. 20020029208 is described as a "data gathering and distribution apparatus and method." A reader e-mailed the following claim, which comes from the application:
58. A data-gathering method, comprising: identifying source data to be gathered; automatically gathering at least a portion of the source data; and automatically distributing the gathered data to at least one selectable destination.
Even when the provisional was filed in 2000, it is clear that this would not have passed the blush test. Fortunately, the application appears to have been abandoned.