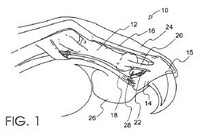 Young v. Lumenis, Inc. (Fed. Cir. 2007)
Dr. Young invented a surgical method of declawing a cat using lasers. (feline onychectomy). Lumenis makes surgical lasers that were allegedly during unauthorized infringing surgeries.
Lumenis is a manufacturer, seller, and distributor of surgical laser instruments that were alleged to have been used to perform Young's patented surgical procedure.
Young filed an infringement suit and Lumenis counted with an inter partes reexamination. (Patent 6,502,579). The PTO issued an office action rejecting the claims and the district court found the patent invalid and unenforceable
Indefinite: In particular, the district court found the word "near" to be indefinite as it was used in claimed step: "forming [an] incision in the epidermis near the edge of the ungual crest." Although the district court roughly understood its meaning, it found "near" to be indefinite because it "fails to distinguish the invention over the prior art and does not permit one of ordinary skill to know what activity constitutes infringement."
On appeal, the CAFC reversed — noting again that claims are indefinite only when they are "not amenable to construction or are insolubly ambiguous." An indefiniteness ruling necessarily requires claim construction and examination of any intrinsic evidence. Here, the intrinsic evidence resolves the meaning of near — with both a drawing and reference to cat-sized measurements. Here, the court distinguished the infamous Amgen case that found "about" to be indefinite: in Amgen, the potential error range of "about" was quite wide and the term had been added to the claims post-filing.
Inequitable conduct — better late than never: The CAFC also disagreed with the lower court's finding of inequitable conduct — finding that Young's late submission of contrary deposition statements cured any potential problem: "The essence of the duty of disclosure is to get relevant information before an examiner in time for him to act on it, and that did occur here."
Reversed