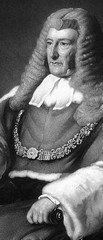 The tri prefix of tribunal may evoke an image of three judges sitting jointly at the bench. In practice, however, tribunal refers to any sitting judicial body – regardless of the number of judges.
The Court of Appeals for the Federal Circuit (CAFC) normally convenes in three judge tribunals to hear appeals. Motion practice, such as an emergency motion for a stay of an injunction, is often heard by a single judge. According to statute, en banc panels usually consist of all (twelve) active members of the court. 28 USC 46(c).
A larger panel is thought to provide more stability and predictability, while a smaller panel theoretically provides a greater variance.
To see how panel size might alter litigation practice, lets take an example case where the lower court issues a permanent injunction that will be enforced within ten days. Question: Should the losing defendant hope for (1) a three judge panel to hear its emergency appeal or (2) a lone appellate judge?
The answer, after several assumptions including independence, is that the appellant's favored panel size varies with the strength of its argument. If the appellant has a high (greater than 50%) chance of convincing each expected judge, then it is better off with a larger panel. On the other hand, if the appellant has a low (less than 50%) chance of convincing each judge then he would likely get better results from a single judge.
This is easy to work out a computational example: For the first case, if we expect that the appellant has a 65% chance of convincing each judge of its case, the probability of convincing at least two judges rises to 72%. Thus, the appellant would be better off with a panel (72% chance of winning) rather than a single judge (65% chance of winning). On the other hand, if the appellant thought that its appeal had only a 35% chance of convincing each judge, the probability of convincing at least two judges drops to 28%. Thus, the appellant who expected to lose would be worse off with a panel (28% chance of winning) rather than a single judge (35% chance of winning). The larger panel also helps smooth over variance amongst the judges — tilting the scales further in favor of an expected winner. A long shot case would hope for the squirrelly judge on a small (solo) panel.
In a May 6, 2007 distribution, Hal Wegner suggested a series of "Mini en banc" panels with seven (or five or nine) members — especially in the area of obviousness. As the panel size increases, good cases theoretically win more often and should be losers lose more often.
Four Judge Panels: One simple step that could make a tremendous difference regarding stability of appellate determinations would be to shift the normal panel size from three judges to four judges. The CAFC has power to make this change under 28 USC 46, which states that "the Federal Circuit may sit in panels of more than three judges if its rules so provide".
On appeals, a split judgment is equivalent to an affirmance of the lower court decision. Thus, an appellant arguing to a four judge tribunal must convince three of the four judges of its case — creating a much larger, super-majority hurdle for the appealing party. The problem with the four judge approach is that it also creates an outcome skewed toward affirmance — something that could be seen as unfair. However, I expect that claim construction decisions reviewed de novo by a four member panel would help us return from our long vacation (or at least reduce the number of claim construction opinions being vacated).
The four judge approach would also violate Federal Circuit Rule 47.2, that requires "a panel consisting of an odd number of at least three judges."