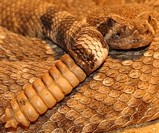 In re Sullivan (Fed. Cir. 2007)
The Board of Patent Appeals (BPAI) found Sullivan's rattlesnake antivenom immunoglobulins obvious in light of Sullivan's own publications and another reference, "Coulter." On appeal, the CAFC reversed – finding that the BPAI had improperly refused to consider Sullivan's rebuttal evidence.
Once the PTO presents a prima facie case of obviousness, the patent applicant has a burden of presenting rebuttal evidence supporting the opposite conclusion. This rebuttal evidence may, for example, be evidence of unexpected results, teaching away from the invention, or secondary indicia of nonobviousness. The BPAI must consider rebuttal evidence that is presented.
Here, the BPAI had failed to consider three declarations that potentially provided evidence of unexpected results of the claimed compound.
Vacated and remanded.