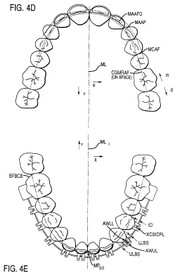 Ormco v. Align Technology (CAFC 2007, 06–1240)
Here, prosecution disclaimer narrowed Ormco's patent claim scope, but only for some of the claims.
Ormco's invention relates to computer-aided design of orthodontics. During prosecution Ormco distinguished its invention based on its automated calculation of final tooth position even though the claims do not explicitly require fully automated calculations. Although finding the disclaimer clear, the CAFC required some relation between the disclaimer and any affected claim before narrowing claim scope. As a consequence, the scope disclaimer only applies to claims directed at finish tooth positions and not to other claims — such as those directed to preliminary organization of tooth data.
Dissent: Dissenting from the majority opinion, Judge Kathleen O'Malley (N.D.Ohio, sitting by designation) criticized both the majority and the lower court for their procedural sloppiness. Judge O'Malley would have remanded to wait for a more developed opinion from the district court.
Notes:
In passing, the court reminds us that the existence of prosecution disclaimer is determined within the claim construction phase – and thus reviewed de novo.
The patents at issue are quite hefty for this type of technology – 97 pdf pages.