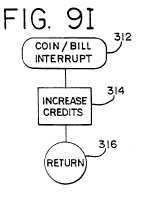 International Gamco v. Multimedia Games (Fed. Cir. 2007).
A single patent can have multiple 'exclusive licensees' where each licensee has exclusive rights to a portion of the patent rights. Rights are often divided temporally, physically, by field of use, and by type of use. Here, Gamco received an exclusive license grant from gaming giant IGT to sell state authorized NY lottery games covered by the '035 patent.
On appeal, the CAFC found that Gamco does not have standing to file suit without the cooperation of the patentee, IGT.
An exclusive licensee possesses standing to sue in its own name if it holds "all substantial rights" to the asserted patent. Historic cases have held that an exclusive territorial licensee has standing without joining the assignee. Here, the court drew a line at exclusive field of use licenses — holding that an exclusive license to a portion of the patented subject matter does not include sufficient rights to create licensee standing. Relying on the Supreme Court's 1892 Pope v. Jeffery opinion, the appellate panel found that field of use divisions create a real potential that a defendant could face suits from multiple licensees.
"In Pope, as in this case, the license only conveyed rights to a subset of the patented subject matter. For that reason, as in this case, the conveyance posed a threat of multiple suits based on the same allegations of infringement. This court therefore holds that Gamco lacks standing to sue in its own name without joining IGT."
Senior Judge Friedman gave a different reading to Pope and filed a dubitante opinion — doubting the correctness of the decision.