Over the past decade, the PTO has taken control of pendency problems in the design patent area. In the early 1990's design patents averaged over 30 months in prosecution. By 2001, that average pendency had fallen to less than 15 months.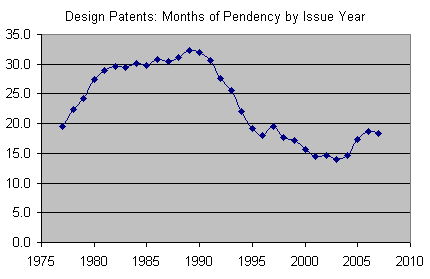 The low pendency can allow design patents to serve as a preliminary substitute for future trade dress protection. A design patent application offers immediate 'patent pending' status and would, in all likelihood, issue before the product would garner the secondary meaning sufficient for trade dress protection. This is the approach taken by Apple with its iPod design patent applications. One of its issued iPod design patents (US D549,237 filed Aug 24 2005) appears identical to the company's trademark design application (Serial No. 78925932 filed July 2006). The trademark case is still pending because Apple must make the required showing of secondary meaning.
The major problem with this 'patent then trademark' approach is the narrow scope generally offered by design patents during litigation. This may change as the Federal Circuit is set to reconsider its design patent infringement jurisprudence in the upcoming Egyptian Goddess en banc case.
There are major differences between the design patent examining corps and the utility patent examining corps — most notably, design patent examiners appear to stay-put. The 49 primary examiners associated with patents issued on December 4, 2007, have, on average, examined 3200+ design patents as primary examiners over an average of 12.5 years. (Medians of 3047 and 11.5 years respectively). Approximately 2/3 of design patents are prosecuted by one of the primary examiners without any assistance from an assistant examiner. For the same patents, assistant examiners have an average history of 400 examined design patents over a period of two years. (Median of 200 and 18 months respectively).
* The graph above is based on a recently compiled dataset of the entire set of 300,000+ design patents issued between December, 1976 and December, 2007.