In 2007, Samsung Electronics received over 550 design patents — the most ever issued to a single company in one year. Sony holds the most design patents, and is followed closely by Nike. The following table shows the company awarded the most design patents each year: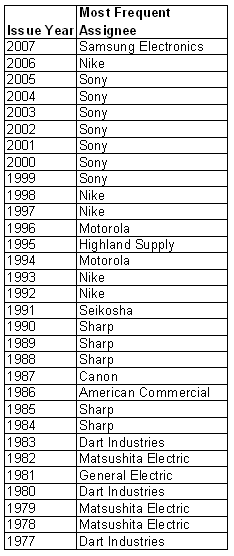 Louis Zarfas is the primary examiner associated with the most issued design patents. Mr. Zarfas has allowed over 16,000 design patents since his first (as a primary) in 1978. Over 1,000 of those design patents relate to shoe designs claimed by companies such as Nike, Reebok, AVIA, Asics, LA Gear, Rockport, Sketchers, Wolverine, Keds, Louis Vuitton, Timberland, Berluti, and Kangaroos.
Recently issued design patents (issued 2000–2007) were, on average, pending for 16.2 months. Companies with at least 100 design patents during that period had about one month less pendency than those with fewer patents. Nike has prosecution down to a science — and averages less than 9 months pendency (filing to issuance). Toward the other end of the pendency chart, Apple averages over 21 months.
During the 2000–2007 period, approximately 75% of examinations were handled by primary examiners without any assistance from an assistant examiner. As with utility patents, the pendency for cases without an assistant is significantly less than for those with an assistant. Here, the difference is about two months.
* These numbers are based on a recently compiled dataset of 300,000+ design patents issued since 1976 on file with DDC.