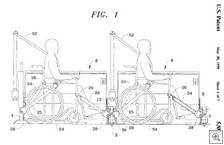 American Seating v. USSC (Fed. Cir. 2008)
Under 35 U.S.C. Section 271(a), offering to sell a patented invention is a form of patent infringement. This case examines, inter alia, what damages might ensue from such "on sale" activities even when an infringing product is not actually manufactured or sold.
In a separate part of the case, USSC's VPRo-I wheelchair tiedowns for mass transit were found to infringe a patent held by American Seating. At some point, USSC stopped selling the VPRo-I and switched to a non-infringing design (presumably to avoid infringement). For pending VPRo-I orders, USSC simply notified customers that the new design would serve as a substitute.
After finding the patent valid and infringed by the offer to sell, the Michigan jury awarded American Seating lost profit damages based on the USSC's non-infringing sales "because in those cases USSC first made infringing offers to sell the VPRo I, but ultimately delivered the [non-infringing] VPRo II."
On appeal, the CAFC affirmed that a damage award for the non-infringing sales was appropriate because USSC had essentially pulled a bait-and-switch on its customers. Although courts have "significant latitude" in types of harms that can lead to an award of lost profits. However, plaintiffs must at least prove that the infringement was a "but for" cause of the lost profits.
The Federal Circuit's 1999 Grain Processing decision also dealt with cases where the an infringing product was not actually sold. In that case, the court held that lost profit damages should only be available when the the product sold is not a substitute for the infringing product. Thus, lost profits would not be available if the replacement was "acceptable to all purchasers of the infringing product." American Seating provided evidence that some customers had complained about the new model — thus proving that it was not an adequate.
Thus, the CAFC affirmed the lost profit award — finding that "absent USSC's offer to sell the [infringing] VPRO-I, the sales would have gone to American Seating."
Notes:
Look for a follow-up post on this case in the coming days discussing other lost profit issues, including damages for "collateral sales" and a discussion of public use under 102(b).