How do district court judges with varying levels of experience perform on claim construction? Are judges more likely to have their decisions affirmed when they have previous claim construction experience? Yesterday I provided some background on the large database I compiled and some overall results. [LINK] Today's post provides an analysis of the data based upon the number of previous appeals of claim construction. A draft of the paper, Practice Makes Perfect? An Empirical Study of Claim Construction Reversal Rates in Patent Cases, can be downloaded here.
If district court judges improve after appellate review of claim construction, one would expect that the reversal rate would decrease as the number of appeals increases. More specifically, a district court judge with more prior Federal Circuit feedback should have a lower reversal rate than a district court judge with less experience. Assuming that the judge decided the second case after learning of the decision of the Federal Circuit in the prior case, the second time a particular judge is before the Federal Circuit, he or she should be more likely to have his or her claim construction affirmed. Figure A below illustrates the reversal rates of district court judges broken down by the number of prior claim construction appeals.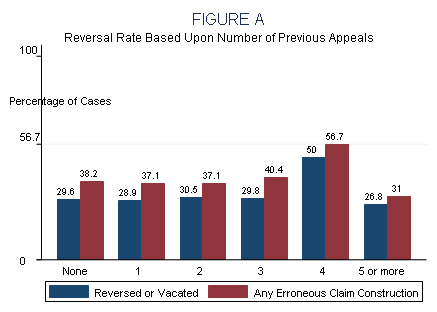 The left-most set of bars represents the results from every judge's first appeal, with the blue bar indicating the percentage of cases that had to be reversed or vacated due to an incorrect claim construction, and the red bar indicating the percentage of cases with any erroneous claim construction. Moving to the right, the pairs of bars represent the results from each judge's subsequent appeals.
These results suggest that district court judges do not improve as the Federal Circuit reviews their cases. Contrary to conventional wisdom, the reversal rate does not appear to decrease when a district court judge has multiple decisions reviewed by the Federal Circuit on claim construction. In fact, the highest reversal rate is for judges with four prior claim construction appeals. Other than judges who have been appealed exactly four times, the range is very narrow, between 26.8% and 30.5% for reversals and 31.0% and 40.4% for errors. Thus, there does not appear to be significant expertise gained by district court judges via direct Federal Circuit review that causes the claim construction reversal rate to decrease. (As discussed in more detail in the paper, the study is subject to several limitations inherent in studying appellate cases, including for example, a potential selection bias and a potential distortion if the cases are not distributed evenly across the district court judges. Ideally, for research purposes, cases would be randomly assigned to a judicial district (i.e., no forum shopping), and a random subset of those cases would be appealed.)
Up next: Reversal rates based performance by district court judges after a first reversal by the Federal Circuit.
I welcome comments from the readers of Patently-O.