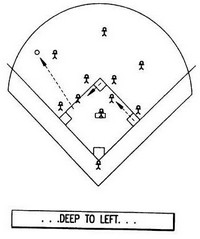 DDB Tech v. MLB Advanced Media (Fed. Cir. 2008)
Mr. Barstow (head of DDB) was still an employee of Schlumberger when he invented his system for simulating a baseball game. As part of his employment agreement, Barstow assigned all rights to inventions relating to or resulting from Schlumberger business. At the time, Schlumberger's GC for software agreed that Barstow's baseball software was his own personal work and not Schlumberger related. After DDB filed suit, MLB bought "any interest that Schlumberger had in the patents" along with a retroactive license.
The district court (Judge Yeakel) dismissed the case for lack of subject matter jurisdiction — finding that the baseball software invention fell within the employment agreement and that MLB is now the patent owner. DDB appeals.
Employee Assignment: Under the Texas law, the employment agreement creates an instant assignment as soon as a qualifying invention is created. Thus, if the patents "qualify" as within the employment agreement, then they were owned by employer regardless of any seeming waiver, estoppel, or statute of limitations. Those defenses could prevent enforcement of an agreement to assign, but do not negate an already consummated assignment.
The CAFC ordered the lower court to reopen discovery so that the parties could collect evidence on whether the baseball software invention fell within the scope of the employment agreement.
Notes:
Employees beware: Your employer likely owns your future inventions! Best practice for garage inventors is to obtain a written exception to the policy prior to inventing. Otherwise, you should obtain an assignment from the company. Of course, this depends upon state law and whether the agreement includes the magic language: "[The employee] does hereby grant and assign." If Barstow had been employed at the University of Missouri, he might have won because the employment agreement only requires the employee "upon request [to] assign … all domestic and foreign rights." For prolific home inventors, this difference may be enough to warrant a job change.
Loyalty?: Not to pick on Schlumberger, but isn't it odd that they chose to do business with MLB over their own former employee…
This case was handled by my former firm, MBHB LLP. However, I was in Boston by the time that they took over the litigation.
Recordation of Assignment: A reader suggested that the patent recordation statute (35 U.S.C. 261) be considered. If you remember 1L property, the patent recordation statute is a notice statute with a three-month grace period. Thus, a subsequent assignee of a patent will hold title over a prior assignee if two conditions are met: (1) the prior assignee did not record in time (which would give constructive notice); and (2) the subsequent assignee was "without notice" of the prior assignment. The timing is no question here — Schlumberger did not record until after DDB had already sued. The only issue then is whether DDB had notice of the prior assignment.
Notice of Prior Assignment: Under Federal Circuit law, a subsequent assignee can have notice of a prior assignment based on actual notice, constructive notice, or even inquiry notice under the principles of equity. Unfortunately, the leading CAFC case on this issue is non-precedential, Katz v. Lear Siegler, 1993 US App Lexis 17507 (Fed. Cir. 1993), and at least two law firms have been publicly chastised for citing the case to the CAFC.