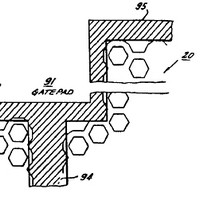 International Rectifier (IR) v. IXYS (Fed. Cir. 2008)
IR's patents cover particular layouts for MOSFET semiconductor chips. After an earlier appeal IXYS was found to infringe under the Doctrine of Equivalents. (Only one of the three patents were held infringed)
Jurisdiction on Appeal: IXYS did not file a notice of appeal within thirty days as required by FRAP 4(a). However, the defendant did file a motion with the district court to stay the permanent injunction pending appeal. Because the motion gave notice of the appeal to both IR and the district court, the CAFC ruled that it satisfied the requirements of Rule 4(a). (The stay was subsequently denied by both the district court and the CAFC motions panel).
Narrowed Amendment: On appeal IXYS argued that a narrowing amendment made by IR during prosecution of the patent forecloses any reliance on the doctrine of equivalents. The claim had been substantially rewritten and was undeniably broader in certain areas. However, the amendments also added an "adjoining" limitation to overcome a Section 112 rejection. Holding: A claim that is both narrowed and broadened is still narrowed — Thus Festo estoppel can apply.
Tangential Narrowing Amendment: A narrowing amendment does not limit DOE coverage if the amendment was made for a reason that is only tangentially related to the claimed equivalent. Here, the amendment was not tangential because the "adjoining" region limitation was clearly related to the asserted charges against products with only non-adjoining regions. The court rejected (as irrelevant) IR's argument that the amendment was not necessary for patentability: IR's decision to claim that structure using the limiting term "adjoining, whether or not required to overcome the rejection, cannot be described as only tangentially related to the equivalency of a structure with non-adjoining regions. [This paragraph updated 2/15/08]
Finding of infringement reversed and remanded.