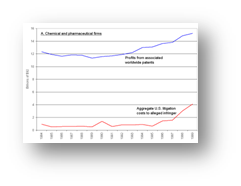 by James Bessen and Michael J. Meurer
Do patents encourage economic growth, stimulate R&D investment, or deliver wealth to innovators? In our previous post we reviewed the empirical research in economics and we could not find consistently positive evidence about the performance of patents.
In this post we narrow our focus. We ask whether the modern American patent system encourages innovation by large (publicly traded) American firms. We answer this question with empirical research that is presented in chapters 5 and 6 of our book Patent Failure. We find that the patent system discourages investment in innovation by the average publicly traded American firm. Although the patent system provides positive incentives in some industries like pharmaceuticals, it provides negative incentives in most industries. Further, the performance has deteriorated over time.
Our conclusion is based on separate estimates of the benefits and costs of patents to innovative firms. We use two different techniques to estimate the value of patents to their owners.
The first technique examines the decision to pay patent maintenance fees. The size of the fee sets a lower bound on the expected value of the patent at each payment date. A large fraction of patents lapse each time maintenance fees are due. Using well-known econometric tools, we use payment information on a large set of patents to calculate patent value.
The second technique relies on the stock market valuation of publicly traded firms. Firm share value is determined by investor expectations about future firm profits. Expected future profits depend on the assets owned by a firm; both physical assets and intangible assets including patents. We use standard econometric tools to apportion share value to the different assets owned by a firm. Thus, we can calculate the value of a firm's patent portfolio, and from that, the value of the average patent.
These two rather different techniques produce estimates that roughly correspond. We calculate a mean worldwide patent value of $370,000 for publicly traded American firms (This number is presented in 1992 dollars; updating for inflation yields $512,800 in 2007 dollars.) Like other researchers, we find that patent values vary tremendously depending on the industry. The average value of patents held by large pharmaceutical firms is easily an order of magnitude larger than the average value of patents held by firms in other industries. Also, the distribution of patent value is skewed so that the median patent value is nearly an order of magnitude smaller than the mean.
Innovative firms are rewarded with patents and enjoy the expected value of patent ownership. But patents also impose expected costs on innovators as defendants in litigation. When an innovator commercializes a new technology there is a risk that a patent owner will assert a patent against the innovator. Innovators sometimes respond to this risk by licensing patents in advance that might be asserted against them, or by designing a product that steers clear of any possible patent assertion. For most innovators these strategies are often not profitable (and often not even feasible). In our next post, we provide the reasons and evidence that patent notice often fails badly and makes ex ante licensing or patent avoidance unlikely in most industries. Assuming we are right, then typical innovators face an unavoidable risk of having to defend against patent lawsuits. This is the largest cost that patents impose on innovators.
We measure this cost by gauging the stock market reaction to the filing of a patent lawsuit against an alleged infringer. We study lawsuits filed against publicly traded American firms from 1984-1999 and we find that the median defendant faces a total litigation cost of $2.9 million (1992 dollars), and a mean litigation cost of $28.7 million (1992 dollars). (Updating for inflation to 2007, the median is about $4 million and the mean is $39.8 million.) Some of this cost is borne by pirates or other non-innovating firms, but we will argue in our next post that most of this cost falls upon firms because they have commercialized innovative technology. Furthermore, in our book we explain that we made conservative assumptions and probably underestimated litigation cost. We conclude that in industries other than chemicals and pharmaceuticals, defense against American patent lawsuits amounts to 13% of R&D spending by defendant firms (19% in 1999). In contrast, our studies of patent value indicate that worldwide patent value amounts to only 6% of R&D spending by these same firms. The result — patents impose a tax of at least 7% on R&D investments outside of the chemical and pharmaceutical industries.
The two figures below summarize total patent costs and benefits for publicly traded firms. The red line shows the annual aggregate costs to these firms of defending against patent litigation. The blue line shows an estimate of the incremental annual profit flow derived from all patents worldwide held by publicly traded American firms. The first figure shows that chemical and pharmaceutical firms earn far more from their patents than they lose to litigation. But for other firms, the second figure tells a simple but dramatic story: during the 1980s, these firms might have, at best, broken even from patents, but in the mid-1990s litigation costs exploded. By almost any interpretation, the patent system could not be providing overall positive incentives for these firms by the end of the 1990s.
Fig 1A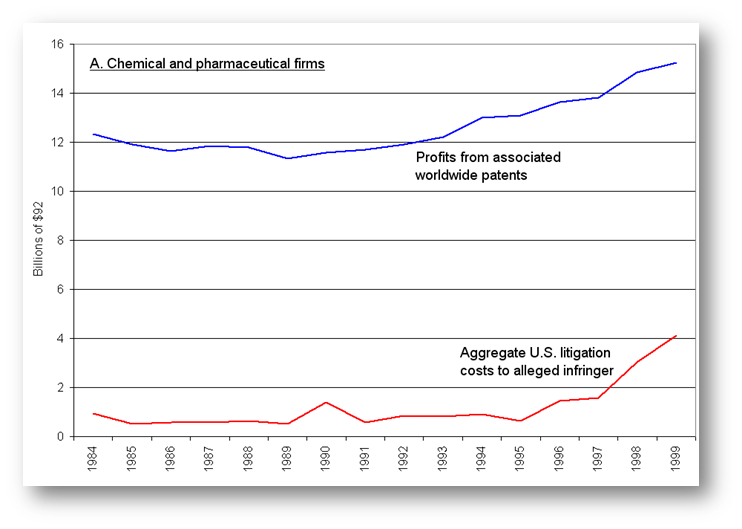 Fig 1b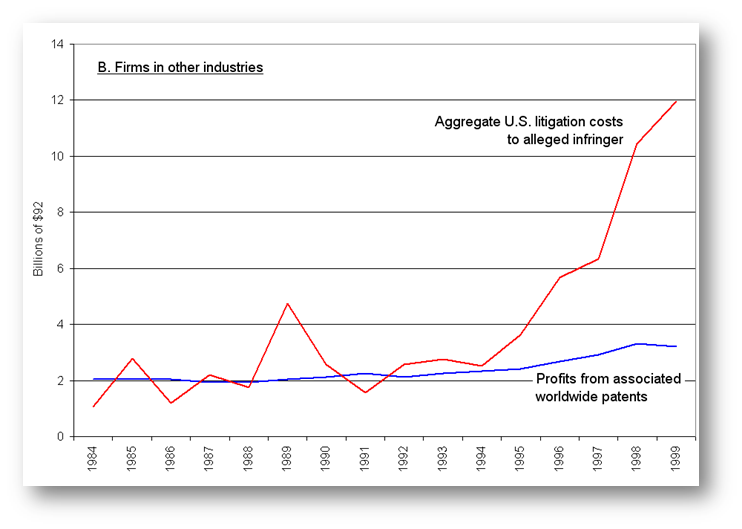 We conclude with three important notes. First, patents do provide profits for their owners, so it makes sense for firms to get them. But taking the effect of other firms' patents into account, including the risk of litigation, the average public firm outside the chemical and pharmaceutical industries would be better off if patents did not exist. Second, our best evidence relates to the eighties and nineties, but the evidence we have for this decade suggests that the patent tax has grown with the continued growth of patent lawsuits. We find no offsetting evidence that patents have become substantially more valuable in this century. Third, we find that small publicly traded firms get small positive R&D incentives from patents. This is also very likely to be true for small, non-publicly traded firms and non-profit inventors.