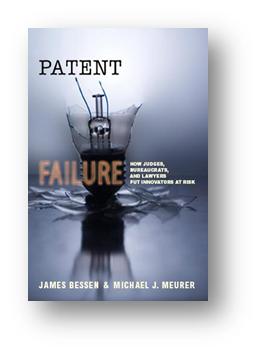 James Bessen and Michael J. Meurer have authored a new book presenting a careful empirical analysis of whether patent rights encourage innovation. Their conclusion: for the most part, today's patent system does not achieve its stated goal. I asked them to provide Patently-O readers with a cut from their analysis. The following post is the first in a series of four by the authors. The book is titled: Patent Failure and published by Princeton [Web Link]. The analysis done in this book put Bessen and Meurer at the forefront of leaders in economic analysis of patent laws. I suspect that their results will become the talking points of the next round of patent reform discussions. A live symposium will be held at UGA Law School on March 29 focusing on the book and its results. [LINK]
==========
by James Bessen and Michael J. Meurer
As background material, this post reviews the sizable body of empirical research analyzing the impact of patents on R&D investment and economic growth. Three future posts will present new empirical research featured in our book Patent Failure. The theme across all four posts is that patents often fail to perform effectively as property rights. [DDC: To work well as property, the right should be predictably valid; have discernible boundaries; and not have an overly fragmented ownership scheme.]
Economists cherish property rights that provide strong incentives for investment and trade, and that thereby contribute to economic growth. Potentially, patent rights could accomplish these three goals, and surely they sometimes do. Apparently though, it is hard to set up and maintain a patent system that works as property.
The rise of new market economies and strengthening of property rights around the globe in the last two decades provides economists with "natural experiments" that help us evaluate whether and how much property rights contribute to investment and growth. The empirical results are impressive. Countries that expanded the role of markets and strengthened property rights have prospered from these choices. Economic historians find the same results hold going back to the Industrial Revolution.
Comparable studies of patent systems are discouraging. The evidence certainly is consistent with the notion that patents encourage American pharmaceutical R&D. But otherwise, it is hard to find evidence suggesting patents are a major factor spurring R&D investment, that patents contribute to economic growth, or even that the patent system is a source of great wealth to important inventors and innovators (outside of a few industries like pharmaceuticals).
Economic history. Douglass North casually links patents and property rights and attributes a significant role to patents in the British Industrial Revolution. But many other economic historians are skeptical. Relatively few English inventors of key technologies prior to the mid-nineteenth century seemed to benefit from patents. Christine MacLeod finds that about nine out of ten English patents arose in industries that saw little innovation, and that patenting was at best loosely related to technological innovation. And Petra Moser, using information on inventions exhibited at the 1851 Crystal Palace Worlds Fair, finds that only 11% of British inventions were patented. [RESEARCH CITES AVAILABLE HERE]
Patents played a more significant role in the nineteenth century U.S. economy. Zorina Khan speaks of a "democratization of invention" in America. Individual mechanics and farmers obtained patents in large numbers and an active market for patents developed that lasted until the end of the century.
Institutional differences probably explain much of the disparity between the countries. British patents were not examined, but American patent examination started in 1836. Patent enforcement was costly and uncertain in England while in the U.S. patent fees were quite low, and a cadre of patent agents and lawyers supported a sector of professional inventors.
Cross-country studies. Park and Ginarte conducted a cross-national analysis of economic growth that included measures of general property rights and a measure of the strength of a country's patent rights. They find that general property rights have a positive and statistically significant effect on economic growth but the patent index has a negative coefficient that is not statistically different from zero. However, they do find limited evidence that patent rights are correlated with a country's R&D spending at least in wealthier countries.
Beware though, correlation is not causation. Patents might cause R&D investment and growth, or it might be, instead, that successful technology companies or other groups, such as the patent bar, have lobbied for patent protection. In this latter case, economic success promotes the expansion of the patent system, not the other way around. In a separate paper the same authors look at the factors that determine a country's patent index. They find, in fact, that lagged R&D (R&D from five years earlier) is positively correlated with subsequent intellectual property rights strength. This suggests that there is, indeed, a significant reverse causality.
"Natural experiments." Several researchers have analyzed changes in patent law. Sakakibara and Branstetter look at the effect of a 1988 law that strengthened patents in Japan. They found no evidence of an increase in either R&D spending or innovative output which could be plausibly attributed to the patent reform. Bessen and Hunt look at the effect of changes in the US treatment of inventions that involve software. They found that the number of software patents grew dramatically. However, firms in the software industry acquired relatively few patents; instead, most were obtained by firms in electronics and computer industries known for stockpiling large arsenals of patents to use as bargaining chips. Moreover, the firms that acquired relatively more software patents tended to actually reduce their level of R&D spending relative to sales.
A massive study by Josh Lerner looks at 177 changes that strengthened patent law in a panel of 60 countries over 150 years. Lerner is not able to directly measure the effect of these changes on innovation. Instead, he measures their effect on patenting within the country making the change and also the effect on patenting by domestic inventors at Great Britain's Patent Office. He finds that overall foreign inventors increased their patenting in countries that strengthened their patent laws. However, domestic inventors actually patented at a lower rate after the change, both within their country and at the British Patent Office. Why the decline in English patents? Probably because there was less invention after patents were strengthened.
Exclusionary Power of Patents. Not surprisingly, the bright spot for patent performance is the pharmaceutical industry. Grabowski and Vernon shows that patents deliver value to drug pioneers by supporting high drug prices. They find that prices drop to 37% of their original level two years after the entry of generic manufacturers. The higher prices that pharmaceutical firms charge while they are still on patent allow them to earn above-normal profits, and more than recover their development investments.
But the pharmaceutical industry is not typical. Survey respondents told Mansfield (1981) et al. that patents increased imitation costs only 7% at the median for electronics and machinery inventions; the figure was 30% for pharmaceutical inventions.
Surveys also find that in most industries (pharmaceuticals are the exception!) R&D managers report that lead time, goodwill, trade secrecy and other means of appropriation are more effective than patents in obtaining returns on their R&D investments (Levin et al. 1987, Cohen et al. 2000). For this reason, it is not surprising that survey research also finds that most inventions are not patented (Arundel and Kabla 1998, Cohen et al. 2000). On average, large European firms applied for patents on only 36% of product innovations and 25% of process innovations. Again, pharmaceutical firms are outliers—they applied for patents on 79% of pharmaceutical products.
Conclusion. Why don't patents reliably encourage R&D and growth? Probably because it is hard to sustain patent laws and institutions that make patents work like property. Patents applied to small molecule drugs do seem to work like property; they deliver wealth to drug pioneers and encourage R&D. For most other technologies it's hard to find evidence that patents work as property. Similarly, over time and across countries and industries, patents sometimes deliver wealth and encourage R&D, but there's no evidence that this is generally true. Future posts will identify the reasons that patents fail to perform like property.