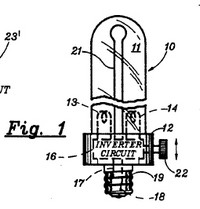 Nilssen v. Osram Sylvania (Fed. Cir. 2008)
In 2007, a unanimous CAFC panel affirmed a district court's finding that Ole Nilssen's light bulb patents were unenforceable due to inequitable conduct. The improper prosecution conduct included failing to disclose a close relationship with a 132 declarant; misleading priority claims; and improper payment of a small entity fee.
Now on appeal is whether Nilssen owes attorney fees under 35 U.S.C. § 285. As with most civil cases in the US, the general rule in patent cases is that each party pays their own attorney fees. Section 285 of the patent act provides a limited exception — providing that a district court "in exceptional cases may award reasonable attorney fees to the prevailing party." Here, the district court found the case exceptional based on the aforementioned inequitable conduct as well as "litigation misconduct" and the filing of a "frivolous lawsuit."
Benign Inequitable Conduct: Nilssen argued that his alleged inequitable conduct had very little real impact — i.e., that it was benign. The CAFC rejected that argument — finding that inequitable conduct is never benign. "In fact, it is a contradiction to call inequitable conduct benign."
Building a Mountain from Pebbles: Nilssen makes a good argument that none his individual acts of misconduct appear bad enough to call the case 'exceptional.'
These acts of misconduct include late production of documents, disavowal of a prior interrogatory response (and never filing a formal correction), attempting to exclude interrogatories that were never signed; informally withdrawing patents from suit, but waiting until only a few months before trial to formally withdraw the patents; and waiving attorney client privilege without providing formal notice to Osram.
Each of these actions can rather easily be explained as "either harmless oversight or permissibly rough litigation tactics." This is perhaps especially true when you consider that the K&E firm – well known for its relentless bull dog litigation style — represented Osram.
To the CAFC panel, however, the "multiplicity" of these individual elements were sufficient to warrant the exceptional case finding — even without an individual smoking gun.
In dissent, Judge Newman did not see an exceptional case:
The statutory authority to award attorney fees was intended to "prevent gross injustice," not to shift the economic balance against the unsuccessful plaintiff.
Notes:
The first line of the case reads: "Nilssen is the owner and principal inventor of over 200 patents…" What does the court mean by "principal inventor" and is there any legal significance associated with that designation?