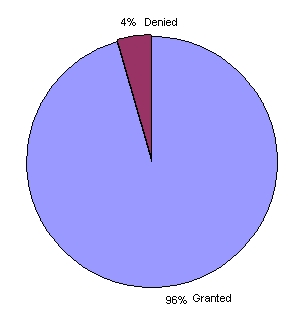 Through its attorneys Microsoft requested ex parte reexamination almost thirty Avistar patents. In recent days, the PTO denied Microsoft's request in 14 of those cases.
Standing alone, this denial does not appear to be big news — except for the fact that over 95% of requests for ex parte reexamination are granted. In FY 2003–07, for instance, the PTO reviewed 2389 requests for ex parte reexamination and only denied the request in 105 cases. (4.4%). (At this point, there is some possibility that the denials are procedural as the documents are not yet available on PAIR).
To be granted, a reexamination request must present a "substantial new question of patentability" that affects at least one claim of a patent. The request must be based on a prior art patent or publication. Prior public use or sale are not admissible as evidence in an ex parte reexamination proceeding (although affidavits explaining the prior art publications is admissible).
In general, there has been a rise in requests for ex parte reexamination. As the chart below demonstrates, increase is entirely due to an increase in requests for reexamination that are filed by third parties.