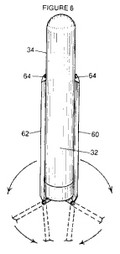 Hemphill v. Kimberly-Clark (Fed. Cir. 2008 — appeal pending)
Over the past few years, the CAFC has been developing its jurisprudence on both claim preclusion and issue preclusion. A new appeal will likely add to the mix.
Hemphill initially sued Kimberly-Clark back in 2002 for infringement of claim 1 of her patent covering a tampon design. (U.S. Patent No. 4,557,720). Kimberly-Clark won that case on summary judgment of non-infringement.
Now, Hemphill has filed a new suit — alleging that the same Kimberly-Clark products infringe claim 2 of the same patent. The new case was dismissed under the theory of claim preclusion or res judicata. Claim preclusion prevents re-litigation of the same case between the same parties. "[A] party who once has had a chance to litigate a claim before an appropriate tribunal usually aught not to have another chance to do so."
Here, the new litigation involves the same parties, same product, and same patent. Based on the seemingly identical circumstances, the lower court held res judicata applies — and that Hemphill should have brought the charges under claim 2 in the initial proceeding.
In 2005, the CAFC held that res judicata does not apply when the second litigation involved a new patent — holding that "each patent asserted raises an independent and distinct cause of action." [Abbey v. Mercedes] Likewise, the CAFC held in 2008 that res judicata does not apply when the second litigation involves an accused product that is not "essentially the same" as the originally accused product. [Acumed v. Stryker]
In all likelihood the CAFC will affirm here — holding that when a patentee holds-back certain claims within a patent that those claims will be lost. A factor weighing heavily against Hemphill is that she is appealing pro se.
Links: