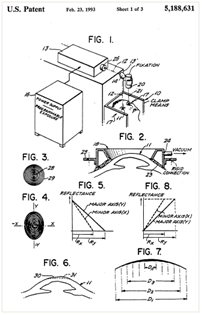 Dr. Serdarevic v. Advanced Medical Optics (Fed. Cir. 2008)
In 2006, Dr. Serdarevic filed an inventorship claim against Advanced Medical (AMO). She argued that AMO's patented inventions were hers that she had developed during her ophthalmology residency at Columbia Presbyterian. Two of her attending physicians are listed as the inventors of the six patents in suit. Unfortunately for Serdarevic, all her witnesses died before she filed suit.
The district court dismissed Serdarevic's claims – finding the inventorship claim barred by laches. It turns out that Serdarevic claimed to have invented back in the early 80's. She learned of the patents in 1998, but waited until 2006 to file suit.
Inventorship Laches: The 1993 Scimed case held that a "delay of more than six years after the omitted inventor knew or should have known of the issuance of the patent will produce a rebuttable presumption of laches." Here, Serdarevic knew of the patent for more than eight years before filing suit – creating a presumption that laches applies.
Reexamination Does Not (Necessarily) Reset Laches: One of the patents had undergone reexamination during the eight-year period. Serdarevic argued that the laches clock should be restarted at that point. The CAFC rejected the notion of any such rule:
"One thing is clear, and accordingly we so hold: there is no rule that the issuance of a reexamination certificate automatically resets the six-year clock for the presumption of laches in each and every case."
In one older case, the CAFC allowed reset the laches clock after a reissue. Vaupel (Fed. Cir. 1991). The CAFC distinguished that case because the excluded inventor had participated in the reissue and had given notice that it would pursue its claim after the reissue.