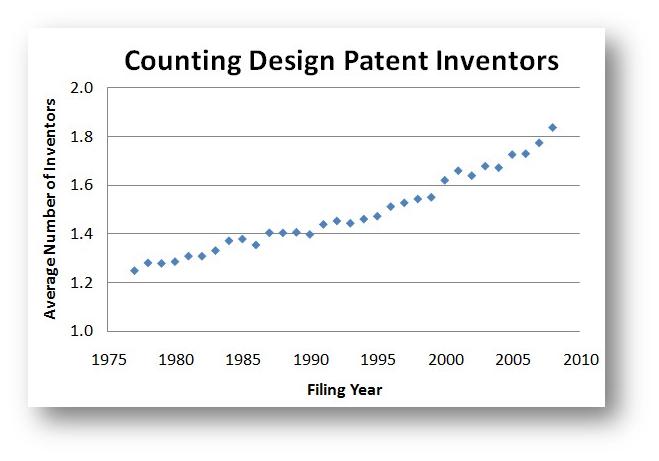 Most design patents are based on the work of a single inventor. Although the average "inventor count" per design patent is still under two a time series appears to show that the lone-mind story of inventing continues to shift to a collaborative effort. Two additional points of information: design patents associated with an assignee have a higher average inventor count as do design patents that list a law firm as handling the patent. Part of the story may be that patent attorneys are getting better at ferreting out the true inventor. However, I suspect that the trend does reflect a shift in the process of invention and product development.
Notes:
This data is based on an analysis of all 300,000+ design patents issued since 1976.
I'll redo this graph for utility patents. I suspect that the results will be similar – especially the continued trend toward more inventors per patent.
In response to a comment, I parsed the number of inventors by country of assignee. Outcome: Amongst the 10 countries with the most design patent holders, US assignees have the highest average number of inventors per patent. (Non-assigned patents are left out of this analysis). (Click on graph to expand)
In response to another comment, I looked at the patent with the most inventors. U.S. Patent No. Des. 563,280 has ten inventors listed. The patent covers the "ornamental design for a car" and is owned by the Chinese auto company Shenyang Brilliance Jinbei Automotive Co. The company manufactures BMW's Chinese 3 and 5 series. (Image below).