Nike v. Wal-Mart (N.D. Ill. 2008)
Nike has sued Wal-Mart for design patent infringement asserting infringement of Pat Nos. D498,914 and D499,248. As with many design patent lawsuits, the patentee here (Nike) also makes a product covered by the design. Design patents have become more important to Nike as the company's trademark 'swoosh' has been less prominent in recent shoe designs. Every year during the past decade, Nike has ranked in the top ten owners of newly issued design patents.
Damages for design patent infringement may be calculated a few different ways. Section 284 calls for compensatory damages with a base of a "reasonable royalty." Section 289 looks to disgorge profits from the infringer.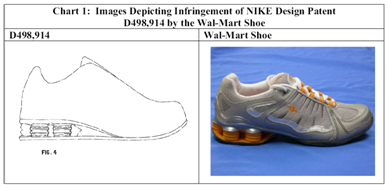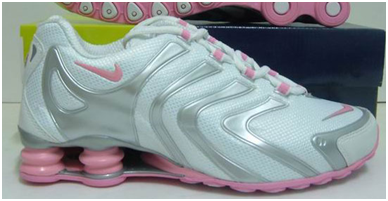 In the late 1990's, Nike won another shoe design patent case against Wal-Mart. In a damages appeal, the Federal Circuit found that Nike had not properly marked its products — holding that to take advantage of the marking statute, a patentee must prove "that substantially all of the products being distributed were marked, and that the marking was substantially consistent and continuous." Nike Inc. v. Wal-Mart Stores, 138 F.3d 1437 (Fed. Cir. 1998) (Newman).
Notes:
The top image is a portion of the infringement claim chart from the complaint. The second (pink) image is a Nike shoe.
First seen on Patent Hawk