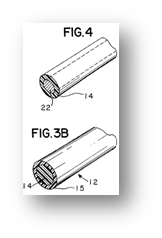 Boston Scientific v. Cordis (Fed. Cir. 2009)
In 2003, Boston Scientific sued Cordis for infringement of its drug-eluting, non-thrombogenic, expandable stent. (Patent No. 6,120,536). The stent, thus has a metal core surrounded by a drugged layer that is then surrounded by a non-thrombogenic layer. A jury found the asserted claims infringed and not obvious. The district court accepted the jury verdict and denied the Cordis motions for JMOL and a new trial. On appeal, the Federal Circuit reversed – finding the patent obvious as a matter of law.
Cordis pointed to another Medtronic patent ("Wolff") as prior art that – by itself – renders the claims invalid. Wolff discloses two separate embodiments: (Fig 4) a metallic core with a drug-eluting coating and (Fig 3B) a drug-eluting core with a non-thombogenic coating. Thus, Wolff "teaches all of the [claimed] limitations. . . . The only qualification to this statement of fact is that all of the limitations are found in two separate embodiments pictured side by side in the patent, not in one embodiment."
Applying KSR, the Federal Circuit found that it would have been obvious to combine the two embodiments since the combination was simply a "predictable variation."
"Combining two embodiments disclosed adjacent to each other in a prior art patent does not require a leap of inventiveness."
Holding: The asserted claim "would have been obvious in view of Wolff."
Note: The Cordis brief used a particularly effective strategy of including the two embodiments to be combined followed by a demonstrative drawing of how they would have been combined. Here, they used the same drawing style and also used the same figure numbering.