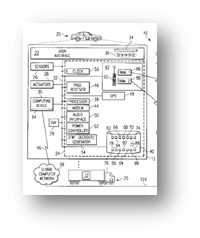 Vehicle IP v. General Motors Corp. and OnStar (Fed. Cir. 2009)(Nonprecedential)
VIP's patent covers a vehicle navigation system. After construing the asserted claims, the W.D. Wisc. court granted summary judgment of non-infringement. This appeal focuses on construction of the phrase "a notification region defined by a plurality of notification coordinates."
The infringing systems use scalars – such as a distance – and the debate is whether those scalars fit the claimed "coordinates" limitation. The majority opinion (Prost & Bryson, JJ) held that the "plain language of the claims precludes the possibility that a coordinate can be a scalar." According to the claim, the location of the device must "substantially corresponds to a notification coordinate," and a bare distance does not correlate to a location. The majority also found suggestions in the prosecution history supporting a narrow construction of coordinate.
In dissent, Judge Mayer would not have limited the coordinate to "a longitude latitude pair."
"In mathematics, there are many types of coordinate systems and the common ground is that they all define a point. For instance, in a curvilinear system, coordinates are defined with a fixed origin point, and a scalar distance offset from that point along a known curve, such as a section of road. A distance offset necessarily has a "partner" to define a point, as offsets are necessarily set off from another known point. A coordinate should not be construed to exclude defining a point by an offset from another point along a known path."
In Hal Wegner's words, this decision "demonstrates the different views that can be reached by reasonable minds on claim construction issues which, due to appellate de novo review, creates the opportunities for so much judicial uncertainty." And, as suggested by dissenting judges in Phillips v. AWH, that en banc decision did little to create predictability in claim construction.