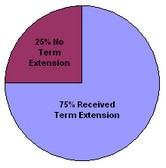 I looked again at patent term adjustments (PTA) for US patents. 3294 utility patents were granted on February 17, 2009. Of those, 2467 (75%) included some patent term adjustment based on PTO delays in prosecution under 35 U.S.C. § 154(b). For each of these patents, some additional quantum of exclusivity is added to the end of the patent term so long as maintenance fees are paid.
The median adjustment was just over one year (376 days) with the average adjustment of 430 days. The longest adjustment in the group was over five years (1958 days). That patent (No. 7,490,438) is directed to an automobile door and is based on an application filed in 2000. In that case, the applicant appealed twice. The examiner was reversed both times. The applicant lost 11 potential PTA days for filing an IDS after the first office action.
Notes
I upted the post to clarify that I am talking about Patent Term Adjustment here (PTA) available under 35 U.S.C. § 154(b). PTA applies to patents filed after May 2000.