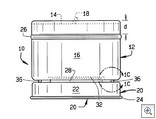 Ball Aerosol v. Limited Brands, Bath & Body Works, etc. (Fed. Cir. 2009)
Ball's patent covers a candle tin with a removable lid. The lid is designed to fit under the candle to help avoid scorching the underlying surface. According to the claims, the candle tin also has legs or "protrusions" that rest upon the cover.
On summary judgment, a Northern District of Illinois court found Ball's patent valid as a matter of law. On appeal the Federal Circuit flipped the decision — finding the asserted claims invalid as a matter of law.
Here, it was undisputed that all of the elements of the claims can be found in the combination of two prior art references. In addition, the problem of candle-tin scorching was well known in the art. Finally, it is undisputed that the technology is "simple and easily understandable."
This case falls squarely under the rule of law expounded by KSR where the Supreme Court held that "[i]f a person of ordinary skill can implement a predictable variation, § 103 likely bars its patentability." Here, one prior art reference (Marchi) taught the candle with a cover that could be used as a base. The other reference (Wright) taught a candle with "bumps" on the bottom to avoid scorching the surface. In considering these two references, the Federal Circuit determined that the combination was obvious:
"The combination of a cover-stand and feet on the bottom of the candle holder was obvious to try in an effort to minimize scorching, as the combination would further raise the bottom of the candle holder above the supporting surface. The resulting, and desired, decreased heat transfer between the candle holder and the supporting surface from the combination would have been entirely predictable and grounded in common sense."
Explicit Motivation: In KSR, the Supreme Court indicated that the reasons for combining prior art references "should be made explicit." Here, the Federal Circuit clarified that statement – holding that the motivation need not be explicit in any prior art. Rather, the Supreme Court is referring "to the court's analysis." In other words, a court must explain its motivation in combining two or more references to invalidate a patent for obviousness.
Commercial Success: Even those who believe in objective indicia of nonobviousness admit that commercial success is one of the weakest forms. The problem is the general difficulty in tying the success of the product to the invention itself. Here, the Federal Circuit found that the "minimal indications of commercial success … do not outweigh the clear indication of obviousness apparent from the prior art."
Holding: Judgment Reversed, Claims are invalid as obvious
Notes: I have pasted figures from the two prior art references. One shows a candle with "protrusions" on the bottom the other shows a candle using the lid as a base. At least one of the references specifically discussed object of creating space between the candle and the surface to avoid scorching problems. Neither reference was cited by the patentee during prosecution.