In Larson Mfg, Judge Linn revived the call to rebuild the ramparts protecting patent applicants against charges of inequitable conduct. For some sense of history, I used Westlaw to pull-up the past twenty-five years of Federal Circuit decisions and counted the number of decisions that at least mention "inequitable conduct." The result is a clear increase in the number of decisions discussing inequitable conduct. Although the absolute number of Federal Circuit patent decisions has also risen somewhat, the growth rate of IC decisions greater.
The graph below shows the number of Federal Circuit decisions that at least mention "inequitable conduct" for each year 1984-2008.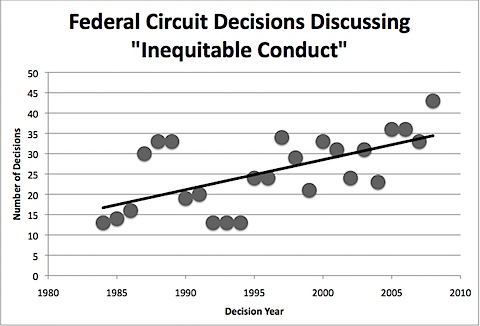 2009 may buck the trend. As of March 19, 2009, only two decisions mentioned inequitable conduct (Larson Mfg., and Rothman). At that rate, we might project only nine or ten decisions for the entire year.
I use the 'mention' of inequitable conduct here because the stated 'plague' primarily focuses on the allegations of inequitable conduct. The mere allegations of inequitable conduct are certainly harmful to the patentee. However – more than that – they are harmful to the profession and to the patent system as a whole by continually suggesting that patent attorneys and patent agents are facilitating fraudulent activities.