Pequignot v. Solo Cup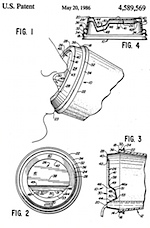 (E.D. Va.)
Judge Brinkema has dismissed Matthew Pequignot's false marking case against Solo Cup and cancelled the trial previously set to be heard this month. [Order] At oral arguments, the Judge indicated that the ruling is intended to "get [the] case teed up for the Federal Circuit."
In this case, Solo knew that its patents had expired but continued to use the same molds to make its coffee cup lids and other disposable products. During that time – between 20 and 50 billion products were manufactured – each marked as patented. The falseness of the marking was not in serious dispute. Nonetheless, Judge Brinkema ruled that Pequignot did not have any direct evidence to prove that the false marking was done "for the purpose of deceiving the public" as required by the statute. 35 USC 292.
On appeal the Federal Circuit will likely be asked to clarify the level of culpability or intent necessary for a finding of purposeful deception. The choice may follow the same lines of debate as the issue of willful patent infringement. The Federal Circuit recently shifted the law of willfulness to require at least objectively reckless acts of infringement (Seagate) and away from any affirmative duty of caution (Underwater Devices). Professor Winston has argued that intent to deceive should be presumed.
Although the Federal Circuit will probably not be able to reach this issue, the parties hotly dispute the appropriate remedy. The statute calls for a maximum penalty of "not more than $500 for every such offense." Here, the question is whether damages should be calculated based on one offense per product line or one offense per item marked.