In re POD-NERS (Fed. Cir. 2009)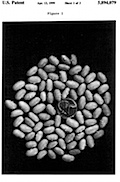 Larry Proctor purchased a package of Mexican beans of various colors. He separated-out the yellow ones and spent three years selectively breeding the plants. He then named his line "Enola" and obtained utility patent protection for the bean, its plant, its pollen, and the method of producing it. Pat. No. 5,894,079. Proctor also obtained a US Plant Variety Protection Act (PVPA) Certificate.
Soon thereafter, Proctor's company POD-NERS wrote to importers of Mexican beans asking for a royalty of 6 cents per pound. Mexican government officials identified the patent as "Mexican bean biopiracy" and that they would "do everything necessary, anything it takes, because the defense of our beans is a matter of national interest." The not-for-profit International Center for Tropical Agriculture (CIAT) requested an ex parte reexamination in 2000 (Procter also filed for a reissue so that claims could be added). A non-final rejection was mailed in 2003, a final rejection in 2005, and a BPAI decision affirming the decision in 2008. Now, the Federal Circuit has affirmed the "decision of the Board that all the claims here would have been obvious and therefore that they are invalid."
This decision makes sense – a published article compared the DNA of Enola with ordinary mexican yellow-seeded beans and found them identical.
One of ordinary skill in the art seeking to reproduce (and hopefully improve) the yellow beans that Proctor brought back from Mexico would have done what he did: plant the beans, harvest the resulting plants for their seeds, planting the latter seeds, and repeat the process two more times.

There is no indication that in taking these steps Proctor sought to provide beans of the particular narrow range of yellow that the claims specified. To the contrary, it appears that all Proctor was attempting to do was to reproduce the yellow beans he had acquired in Mexico, and hopefully to improve them.

To do so he followed normal and well-established agricultural methods and techniques for doing that. See KSR Int'l v. Teleflex Inc., 550 U.S. 398, 418 ("a court can take account of the inferences and creative steps that a person of ordinary skill in the art would employ.") He does not contend that he devised or applied new or unexpected techniques in reproducing the beans.
Although happy with the outcome, public interest groups have labelled the process a "travesty." "In essence, the U.S. patent system allowed the owner of a flagrantly unjust patent to legally monopolize markets and destroy competition – for close to half the 20-year patent term." [Link]