In 2008, the patent office reissued over 640 patents – breaking the prior record of 630 set in 1875. The historic numbers of reissued patents are shown in the first chart below grouped according to year of reissuance.

Although today's absolute numbers rival historic highs of the 19th century, today's relative number of reissued patents is close to the all-time low. The next chart shows the relative percentage of reissues as compared to utility patents granted (denominator based on a moving average of patents issued over of the prior ten years).

The final chart shows a time series of the average reissue pendency as measured from the reissue application filing date to the reissuance date. As is apparent, the pendency has been growing dramatically since 1997. 2009 looks to mark a second record – the first time that average prosecution pendency of reissues applications will be greater than five years.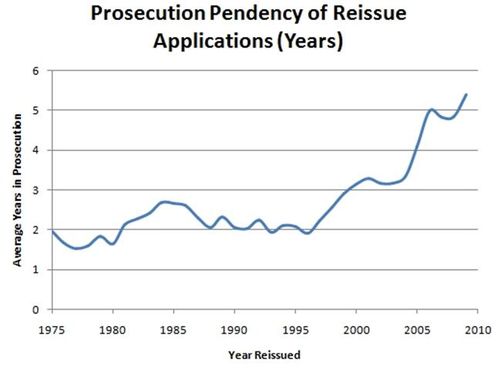 Background: The reissue process is designed to allow a patent holder to correct a defective patent and is nestled between certificates of correction (minor errors) and reexamination. 35 U.S.C. §251 spells out particular defects that may be corrected in the process: Defect in the specification; Defect in the drawing; Error in claiming too much; or Error in claiming too little. In Medrad, the Federal Circuit broadly read these final two defects to "encompass any error that causes a patentee to claim more or less than he had a right to claim." Medrad, Inc. v. Tyco Healthcare Group LP, 466 F.3d 1047 (Fed. Cir. 2006). A major limit on the reissue process is that "[n]o reissued patent shall be granted enlarging the scope of the claims of the original patent unless applied for within two years from the grant of the original patent." Section 251, final paragraph. The limit on improper broadening of reissues is strict and applies when claims are "broader in any respect." Predicate Logic, Inc. v. Distributive Software, Inc., 544 F.3d 1298 (Fed. Cir. 2008).