Lucent v. Gateway, Dell, and Microsoft (Fed. Cir. 2009)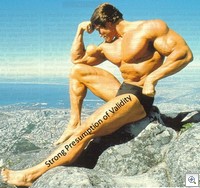 In its original opinion, the Federal Circuit vacated a $350+ million verdict against Microsoft based on improper damages calculations. On remand, the court must conduct a new damages assessment, but in that scenario Microsoft will certainly be on-the-hook for millions of dollars.
As an end-run, Microsoft has petitioned the Federal Circuit for a rehearing of the Lucent case en banc with a special focus on a particular issue that was ignored by the original opinion: the standard of proof for proving invalidity when the defendant presents prior art evidence that was not considered during patent prosecution. In particular, the software giant asks the court to "overrule its precedents requiring clear and convincing evidence of invalidity when the PTO did not consider the asserted prior art."
Microsoft argues that the justification for a clear-and-convincing disappears when the patent challenge is based on newly uncovered prior art:
As the Supreme Court noted in KSR, however, "the rationale underlying the presumption [of validity]-that the PTO, in its expertise, has approved the claim-seems much diminished" where the claim of obviousness is based on prior art that was never before the PTO. 550 U.S. at 426. See also Penn Int '1 Indus., Inc. v. New World Mjg. Inc., 69 1 F.2d 1297, 1300-01 (9th Cir. 1982) ("'The basis for the presumption-that the Patent Office has compared the claim of the patent with the prior art and used its expertise to determine validity-can no longer exist when substantial evidence of prior art not considered by the Patent Office is placed in evidence at trial."). As the Supreme Court cogently observed, the force of the statutory presumption-which stems from the conclusion that the PTO has done "its job properly," see Superior Fireplace Co. v. Majestic Products Co., 270 F.3d 1358, 1367 & n.l (Fed. Cir. 2001)-dissipates when the PTO lacked essential evidence.
The case relies on the writings of several academics including the Lichtman & Lemley work on Gold Plated Patents. In April 2009, I suggested that this type of frontal challenge on the strong presumption of validity would be coming soon.
Notes: