In December 2009, the USPTO issued 16,000+ utility patents. I used a software program to tally those patents that include claims with means-plus-function (MPF) claim language by looking for the terms "means for" or "means of" in the claims.
Only about 15% of the issued patent included at least one claim having an MPF limitation. Of patents that include an MPF limitation, half recite fewer than five such limitations. It appears that attorneys are using MPF claim language primarily as a back-up. Longer claim-sets are more likely to include means-plus function language. Thus 21% of patents with above-average-sized claimsets (by character count) include a means-plus-function limitation while only 11% of patents with below-average-sized claimsets include an MPF limitation.
Looking claim-by-claim, I found that only 3% of the patents in my sample included means-plus-function limitations in every independent claim.
Means-plus-function terms are also also associated with non-assigned patents (usually individual inventors). 23% of non-assigned patents included an MPF limitation compared with 14% of assigned patents.
Patents arising from certain countries are much more likely to include MPF limitations. The chart below looks at the most common foreign filing jurisdiction for priority claims and reports the percentage of US patents arising from those foreign filings that include MPF limitations.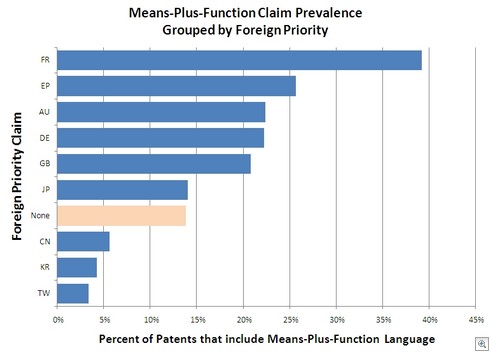 Means-plus-function claiming is primarily focused outside of the chemical and biotech art units. Thus, only 2% of patents examined in TC1600 (Biotech & Organic Chemistry) and 7% of patents examined in TC1700 (Chemical & Materials Engineering) include MPF limitations. The remaining technology centers averaged over 18% of patents including MPF limitations.
The chart below shows means-plus function claim prevalence of the top-20 patent owners (based on the number of patents owned in the sample). These companies are all primarily focused on electronics and are all headquartered in either the US or East Asia.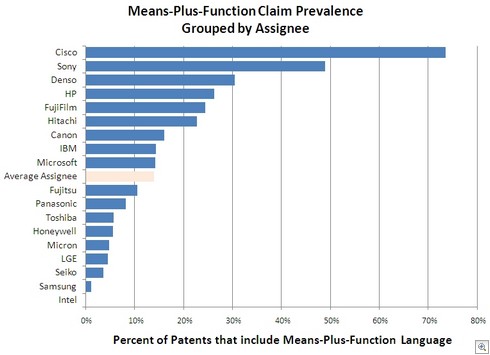 The final chart shows the change in patent prosecution practice over time. Clearly, the use of means-plus-function claims has dropped over time. This is true even in the face of rising claim counts. The chart below is based on a sample of 22,000 randomly selected patents that issued 1976–2009. I grouped the patents according to their decade of issuance and calculated the percentage that included at least one means-plus-function limitation. *The chart also includes the December-2009 data mentioned above.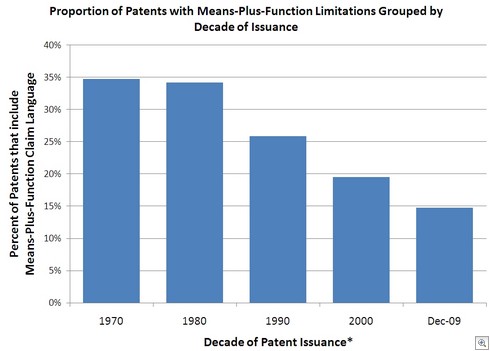 Notes: My search is likely both over and under inclusive. Although a claimed element that uses the terms "means for" is usually interpreted as an MPF claim, it is not always so interpreted. Likewise claim terms written in functional language without any structure in the claims can be interpreted as means plus function even if the absence of the "means for" language. Also, "step for" language is typically when a method step is functionally claimed.