The Patent Term Adjustment (PTA) procedure operates to lengthen the patent term of a utility patent based on delays during patent prosecution. The current backlog of applications at the PTO suggests that most newly issued patents will have some positive adjustment.
I looked at the patent term adjustment (PTA) calculations for the 3187 utility patent issued on January 12, 2010. Eighty percent (80%) of these newly issued patents included some adjustment of the patent term based on the length of prosecution. For those with some adjustment, the average PTA is 14.5 months. The longest PTA adjustment in this group was for 74.5 months (six+ years). That patent (No. 7,647,402) took almost nine-years to issue. Under the Wyeth v. Kappos decision, I calculate that the PTA for the '402 patent would be extended by almost two additional years to 98 months (8+ years).
The chart below shows the cumulative frequency of PTA calculations for the January 12, 2010 patents using the pre-Wyeth calculations. It will be interesting to see if the PTO recalculates the PTA for these newly issued patents based on the Wyeth decision.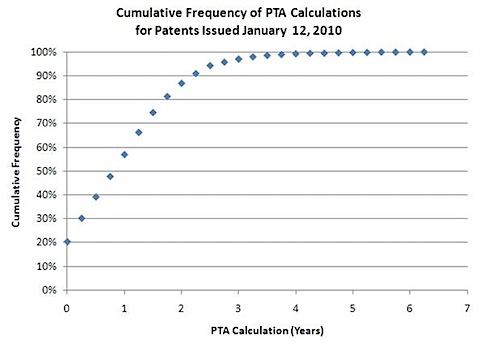 Appeals versus RCEs: The Wyeth PTA boost puts an additional thumb on the scale of appealing final rejections because filing of an RCE prevents any further accumulation of Part-B PTA. 35 U.S.C. 154(b)(1)(B)(i).