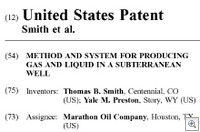 Yale Preston v. Marathon Oil (D.Wyoming)
The trial date is approaching in the case of Preston v. Marathon Oil. Preston was a former employee of Marathon and the two are disputing ownership of patent rights. Preston and Marathon each obtained a patent naming Preston as the inventor. Marathon's file-history is interesting because it includes a petition to accept an unsigned oath based on the inventor's refusal to sign.
37 CFR 1.47(b) reads as follows:
Whenever all of the inventors refuse to execute an application for patent, or cannot be found or reached after diligent effort, a person to whom an inventor has assigned or agreed in writing to assign the invention, or who otherwise shows sufficient proprietary interest in the matter justifying such action, may make application for patent on behalf of and as agent for all the inventors. The oath or declaration in such an application must be accompanied by a petition including proof of the pertinent facts, a showing that such action is necessary to preserve the rights of the parties or to prevent irreparable damage, the fee set forth in § 1.17(g), and the last known address of all of the inventors. An inventor may subsequently join in the application by filing an oath or declaration complying with § 1.63.
The petition filed by Marathon includes: (1) a statement from Marathon's attorneys that contacted Preston by Mail and by Telephone and that he indicated his refusal to sign; (2) a copy of the employment agreement that includes a promise to disclose and an assignment of IP rights. The petition was granted. [Petition.pdf (2643 KB)]
Two interesting tidbits: (1) Preston's patent issued first, and the examiner of the Marathon Oil application issued a double-patenting rejection. Interestingly, it does not appear (from the file history) that Marathon ever filed a terminal disclaimer or otherwise discussed Preston's patent. [The Preston patent was not disclosed by the Marathon, rather it was located by the Examiner in his search.] (2) the employment agreement is important for the case. As he signed his agreement, Preston indicated that he held prior rights in a "CH4 Resonating Manifold" that would not belong to Marathon. The agreement expressly states that Marathon agrees that those rights are "NOT the property of MARATHON." The question up for grabs is whether the invention at issue in this case is the same as the CH4 manifold disclosed in the agreement.