The pending en banc case of Hyatt v. Kappos is more important now than ever before because the Board of Patent Appeals and Interferences (BPAI or Board) is deciding more appeals than ever before. The chart below reflects the number of applications with completed appellate briefing that are pending resolution at the BPAI. As active patent prosecutors are well aware, this chart only reveals a small portion of a complex problem. Appeal briefing has largely become an ordinary part of patent prosecution practice. Most cases where appeal briefs are filed do not actually reach a BPAI decision. Rather, in most cases the examiner withdraws the standing rejection rather than pursue the appeal. In this system, appeal briefs have largely become a priced commodity rather than an all-out factual and legal effort.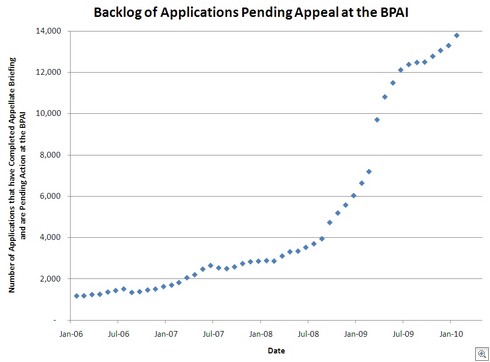 In Hyatt v. Kappos, the en banc Federal Circuit is focusing on the amount of new evidence that can be presented when challenging a BPAI decision in Federal District Court under 35 USC 145. The panel decision held that the district court properly refused to allow Hyatt to submit additional expert testimony that went beyond the arguments presented to the BPAI. Judge Moore dissented from that holding and instead argued that the right to a "civil action" under Section 145 includes a right for a de novo consideration of patentability.
The issues raised in Hyatt v. Kappos are now important for many patent applicants because of the cost-pressures of appeal briefs and the high-likelihood that rejections will be withdrawn based on the briefing. Typical Applicants do not submit substantial additional evidence of patentability during the appeal process. However, under Hyatt, the applicant would be barred from substantially adding to the record in a subsequent civil action.