This is Part V of my series on the relevance of the invention date in patent prosecution. You may download my entire paper here. This part discusses results of my survey on patent practitioner strategies in choosing whether to swear behind prior art.
* * * * *
As part of my 2009 survey, I asked a final question that focused on the relative strategic merits of (1) asserting first-inventor rights to negate putative prior art references or (2) distinguishing the scope of the invention from the disclosures found in the references. Responders were offered a hypothetical situation where either strategy might succeed. The question read as follows: Assume that you receive non-final prior art rejection. You believe that you could distinguish the reference without amending any of your claims. However, you also have sufficient evidence to swear behind the reference based on an earlier invention date. Which approach do you take?
Responders were asked to choose one of three options: "Swear behind the reference," "Distinguish your claims from the prior art," and "Swear behind the reference and distinguish the claims." In addition, responders were asked to "Explain your answer."   
The responses show a large preference for distinguishing claims from the prior art rather than asserting first-inventor rights by filing a Rule 131 affidavit. While 51% of responders would have distinguished the claims, only 31% would have asserted first-inventor rights, and 18% would have attempted to both distinguish the claim and assert first-inventor rights. The responders in the survey who would have distinguished the claims showed more support for a shift to first-to-file and indicated that they had comparably less experience in handling cases associated with Rule 131 affidavits. However, those differences were not statistically significant.
Many responders offered an expositive statement of their strategy selection. These results create a richer data set susceptible to qualitative analysis. Analysis and categorization according to a set of themes that emerged from the statements allowed for a thematic tallying in Table 12.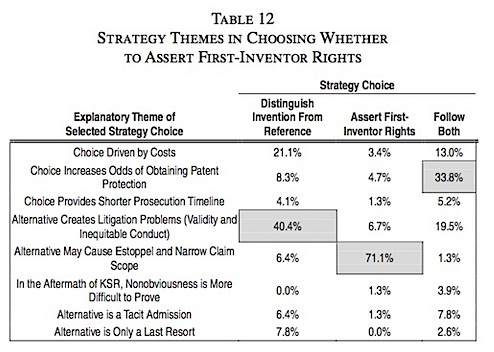 Responders who preferred to assert first-inventor rights primarily mentioned the concern that distinguishing the prior art creates potential estoppel issues that would limit claim scope. The following examples embody typical responses:
Swearing behind the reference limits the amount of prosecution history estoppel in the case and avoids making statements on the record that may later be used to limit the scope of the claims.

Why go on the record against your claims when you can make the prior art disappear?

It is crazy to make any substantive argument to distinguish over a reference that is not in fact prior art. Why limit the interpretation of your claims?
Responders who preferred to distinguish the claimed invention from the prior art rather than assert first-inventor rights most often mentioned the concern that Rule 131 declarations create their own litigation problems by raising questions of invalidity and inequitable conduct. The following examples embody typical responses:
[Because] swearing back does not provide absolute victory (as a 102g date may later be found), I would always attempt to distinguish first, all other factors being equal.

I would prefer to avoid the risk of an unintentional error in the declaration. If discovered, it would raise inequitable conduct (perhaps groundless, but would still have to be defended) and raise a question of validity.

131 declaration should be a last resort. [T]he resulting patent is weaker (creates [inequitable conduct] issues, defendants can prove an earlier date, etc) plus it looks bad—as if you're admitting your claims are obvious over the cited reference.  
Many responders shared the concern that swearing behind a cited reference while failing to distinguish the claims on their merits "looks bad" and amounts to a tacit admission that the reference is good but for its effective date. Indeed, one self-described former examiner suggested that swearing behind a reference without addressing the scientific merits of the reference creates a specific challenge for a patent examiner—to find the same prior art, but with an earlier effective date:
Swear[ing] behind the reference may satisfy some, but most [examiners] will try to thwart the swear behind by locating another, similar reference. Practically speaking, to get the case allowed, amend the claims minimally, distinguish from the prior art, and lastly swear behind it, in that order. This provides the examiner enough cover to allow the case.
Some of the responders (12.2%) offered the reminder that patent prosecution is an ongoing process—a series of events or a story unfolding.
Many suggested that if one argument fails, an applicant should move to the next argument. However, many responders, who indicated that they would both assert first-inventor rights and distinguish the invention, suggested that the better approach is to include all arguments within a single response. The following examples embody typical responses:
If you don't swear behind at the non-final stage the office will go final and not accept the 131 dec[laration] at that stage without the filing of a[ Request for Continued Examination]. A similar situation arises if you rely on the dec[laration] and don't argue to distinguish. You'll have to file an RCE to get the arguments considered.

As an examiner, I can tell you this is the best way to get around the reference. More than likely one or the other submitted [sic] on its own will likely have some deficiency. Therefore, doing both will be more persuasive.

Taking the "belt-and-suspenders" approach of both filing a 131 and distinguishing the claims saves time and money for my client. Just because the Examiner has cited a reference with a certain date does not mean that s/he cannot make another rejection based on other art that has an earlier date for the base reference. I prefer to be safe and plan for both eventualities, as long as the claim amendments do not drastically change the claim scope.  
Responders who indicated that they would both assert first-inventor rights and distinguish the invention most often mentioned that their approach increases the odds of obtaining patent protection.  
The cost of patent prosecution certainly drives some applicant behavior. There was some disagreement, however, on which choice was the least-cost mechanism. On one hand, 21.1% of responders who preferred to distinguish the invention suggested that their choice was at least partially driven by the high cost of preparing and filing a successful Rule 131 declaration:
It generally costs much less to distinguish prior art than to do everything necessary to file a 131 Declaration.

Declarations are more work. Specifically, gathering facts related to conception + diligence or actual RTP is time consuming.

As a practical matter, it's often difficult to track down corporate-type inventors two or three years after the app is filed, so as to be able to get them to sign a Rule 131 dec[laration].  
A handful of responders who preferred to assert first-inventor rights indicated that was the cheaper approach:
It is hard to justify to the client doing all the extra work of distinguishing the claims.
Finally, 13.0% of responders who selected the dual strategy suggested that—in the long run—their approach was more cost-effective.