In Therasense, the en banc Federal Circuit is poised to consider fundamental questions of the law of inequitable conduct.  Some members of the court have called the doctrine's current state a "scourge" and a "plague" on the patent system because inequitable conduct is alleged in so many patent cases. 
I searched LexisNexis for federal district court and appellate decisions that mention the term "inequitable conduct" and used those results to create the time-series charts below. As the charts demonstrate, the number of decisions discussing inequitable conduct has continued to dramatically rise even after the Federal Circuit's 1988 Kingsdown decision.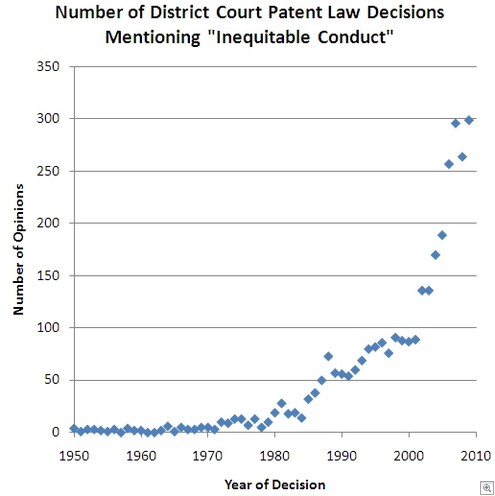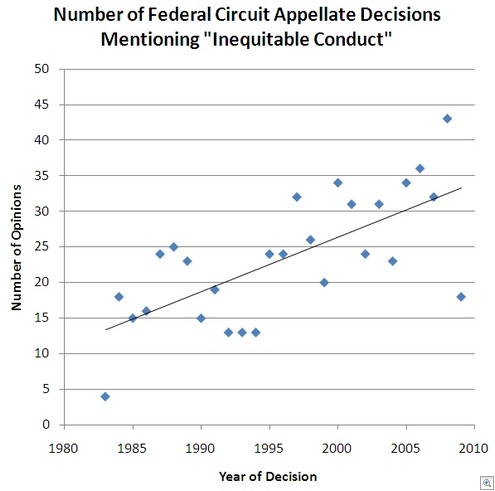 In his recent article, Professor Mammen analyzed the prevalence inequitable conduct by looking at federal court complaints (inter alia).  [Read Mammen's article] I compiled his data into the following chart that shows the dramatic rise in the percentage of patent lawsuits where inequitable conduct is pled (typically in the answer as a defense to charges of patent infringement.)  Mammen article suggests that the chart below is a conservative calculation (because pleadings are difficult to find and search) and that the actual frequency of inequitable conduct allegations may reach to 60% of patent lawsuits.