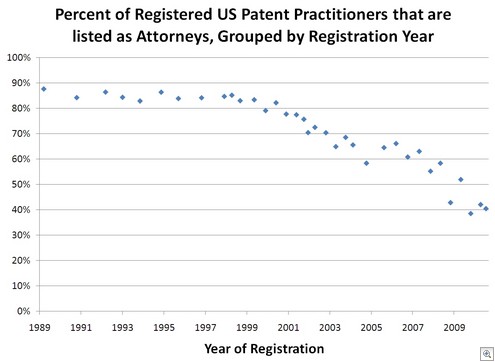 As a continuation of the previous posts on patent attorney demographics, I looked at the status of registered US patent practitioners.  As the chart above demonstrates, more recently registered practitioners are less likely to be registered as patent attorneys. 
It is not surprising that a high percentage of recently registered practitioners are agents.  Many current patent agents will eventually become patent attorneys.  In addition, some practitioners never update their status even after becoming attorneys. However, I suspect that those factors do not explain the entire trend.
For those who do not know, an individual can become a patent agent upon passing the patent practitioner registration examination (patent bar exam).  To become a patent attorney, the individual must also be licensed to practice law in at least one US state.
Thanks to my research assistant Lawrence Higgins (2L) for helping obtain some of this data.