Although the Board of Patent Appeals (BPAI) is working harder than ever, its backlog continues to rise. The first chart below shows the BPAI's inventory of undecided appeals in ex parte cases. This only includes fully-briefed appeals whose dockets have been transferred to the BPAI and does not include the thousands of other applications where awaiting briefing. The average timing from notice-of-appeal to appellate decision is 29 months.
I spoke with BPAI officials who identified the jump in early 2009 as a one-time issue involving the bulk transfer of cases that had been previously delayed.
The next chart shows the number of Ex Parte cases decided each month. The average number of cases being decided each month continues to rise. However, the chart also reveals a high month-to-month variability. That variability is explained by the BPAI judge quota system. BPAI judge performance is primarily judged two times per year, and that process is reflected in a systematic incentive for the judges to do more work in Feburary and August and then less work in March and September.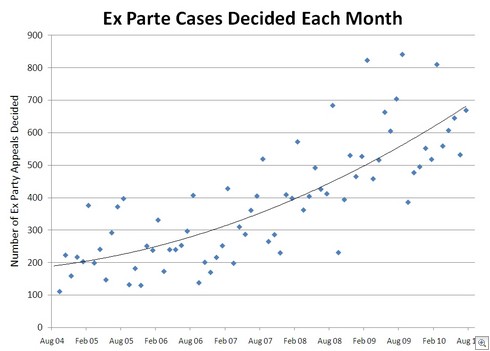 Although the BPAI is deciding more cases than ever, inventory continues to rise because more appeals are being filed than ever.