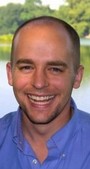 Guest Post by Kyle Jensen of PIPRA.
I recently looked at some historical litigation trends and was surprised to learn that the number of patent lawsuits filed annually was roughly constant over the past decade. This year, of course, there are a large number of qui tam complaints being filed for false marking (largely by a small handful of plaintiffs); however, the number of infringement cases will not be dramatically different than 2009.
The relative constancy of litigation activity is a bit perplexing and certainly incongruent with the patent-system-gone-awry stories so commonplace in the popular media. I thought there was an "NPE problem" spinning out of control. I thought costs were spinning out of control. Well, they might be, but it's not reflected in increased lawsuit filings. I pulled back-data from PACER to produce the chart below, which shows the number of patent lawsuits and defendants in those lawsuits as a percentage of their levels in 1990.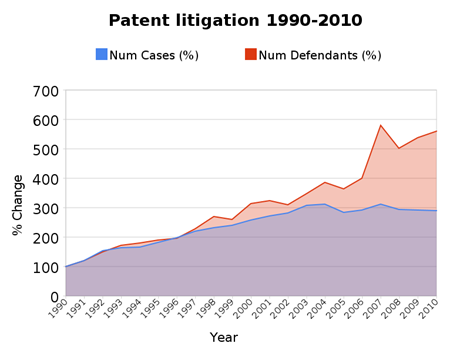 There are some striking observations here. * The total number of patent litigations filed increased about 300% between 1990 and 2002, but has been nearly constant for the rest of this decade. (Many others have shown this previously. See, e.g. Shrestha, 2010) * The number of cases with more than one defendant followed a similar trend (data not shown). * The number of named defendants increased nearly 600% between 1990 and 2010.
In short, the number of cases filed per year is constant, but the number of defendants keeps growing.
I don't know why this is. The most obvious hypothesis is that it's driven by an increase in many-defendant filings by NPEs. That is, maximizing the ratio of defendants named to cases filed will 1) maximize potential revenue and 2) decrease costs for an NPE or contingency counsel. I can't think of many reasons that a practicing entity would behave similarly.
Numerous sources report that the number of NPE lawsuits is growing and now make comprise about 1/5th of all filings. For example, according to PatentFreedom, NPE lawsuits increased from less than 100 per year in 1998 to roughly 500 in 2009. (There were about 2,600 total cases that year). Also, Colleen Chien showed that in the IT sector NPE suits account for 1 in 6 cases. Given these statistics, it would be interesting to if those cases account for a disproportionate fraction of the named defendants. (This is somewhat more complicated to show.)
If the number of defendants is growing, costs are certainly growing as well. Assuming each case costs each defendant $1MM (many studies show it's higher), defendants would be spending an extra $400MM/yr on litigation each year.
Where's that money go? Certainly attorneys capture some of it. Below I've overlaid the number of attorneys assigned to patent litigations over the years. As you can see, the growth in attorneys outstrips both cases and defendants.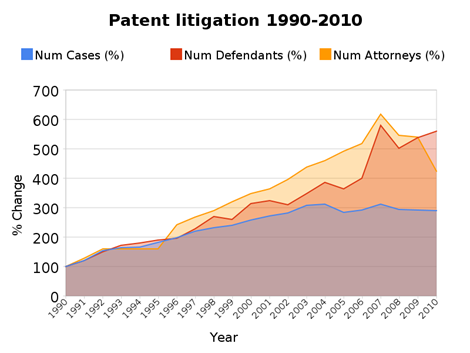 (All this data is available in PACER, so you can verify my numbers. Also the raw data are online. There are a few obvious caveats, e.g. I haven't removed cases in which multiple subsidiaries of the same company are named in the same suit. About me: I work for the Rockefeller-funded non-profit PIPRA where I teach scientists and entrepreneurs in developing economies about IP. I also own the website PriorSmart, which publishes a daily patent complaint alert. It's free, and includes PDFs of the pleadings. You can sign up here if you'd like to get it.)