Warrior Sports v. Dickinson Wright and John Artz (Fed. Cir. 2010)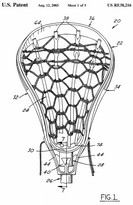 Warrior Sports makes lacrosse equipment and hired John Artz's firm to handle patent prosecution.  Artz later merged his firm with Dickinson Wright and brought his clients into the crease.  One case that Artz worked-on was Reissue No. 38,216.  In that case, the Artz firm failed to pay the maintenance fee — allowing the patent to lapse.  In their petition for revival, Artz explained that the docketing clerk charged with paying the fee had suddenly died of an unexplained brain infection and that she had been suffering from the malady during the time that the fee was due. Unfortunately, the clerk had kept her illness secret and the firm learned only later that the condition had impacted her performance.
When Warrior sued STX for patent infringement, the defendant argued that the patent had lapsed because of failure to pay the maintenance fee and – in addition –  that the patent was unenforceable due to inequitable conduct during prosecution. (The inequitable conduct charge was based upon an argument that Artz had mischaracterized prior art). Rather than lose the infringement case, Warrior settled with STX (on allegedly unfavorable terms) and then sued Artz & Dickinson Wright for legal malpractice. 
Federal Court Jurisdiction over Malpractice Claims: Malpractice is a state law claim and is usually handled by state courts (absent federal diversity jurisdiction). However, when the malpractice charge would necessarily require "resolution of a substantial question of federal patent law" a federal question is raised that allows-for (requires?) federal court jurisdiction.  Christianson v. Colt Industries, 486 US 800 (1988).
District Court Dismissal: Both plaintiff and defendants agreed that the case should be heard in federal court. Nonetheless, the district court dismissed the case for lack of jurisdiction over the malpractice question.
Holding on Appeal: On appeal, the Federal Circuit vacated the dismissal — holding that the Michigan malpractice claim arises under patent law and therefore should be heard in Federal Court. 
Malpractice Elements: In Michigan, legal malpractice has four elements: (1) the existence of an attorney-client relationship; (2) negligence by the attorney in the legal representation; (3) actual injury; and (4) that the negligence be the proximate cause of of the injury.
Case within a Case: Classic patent prosecution malpractice requires a "case within a case" where, in order to prove actual injury, the malpractice plaintiff must show that someone would have infringed a properly obtained patent.  "That is, to prove the proximate cause and injury elements of its tort claim, Michigan law requires Warrior to show that it would have prevailed on its infringement claim against STX and would have been entitled to an award of damages as a result."
Since at least one of the plaintiffs malpractice theories requires proof of infringement, the case raises a "substantial question of patent law conferring § 1338 jurisdiction." Here, it was important that the court in the infringement case had not decided the infringement issue (it had decided claim construction).
Dismissal Vacated and Remanded.