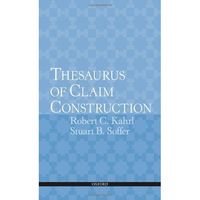 Several years ago, Stuart Soffer told me about his claim construction thesaurus project. At the time, I thought that the result would be amazing, but that the project was clearly too ambitious. I was both surprised and happy when Oxford Press sent me the completed 1,000 page volume. The book, co-authored by Robert Kahrl (author of Patent Claim Construction), includes over 7,000 claim terms that have been construed by courts over the past decade. Following the introductory chapters explaining the source of definitions from the book and the process of claim construction, the book quickly jumps into the definitions. Here is an example:
Downloader: A computer that retrieves web pages and embedded objects from the internet. 6,864,904 (715/760) Filed: 2000. Girafa.com Inc. v. Amazon Web Service LLC et al. 07-00787 (D. De. September 15, 2009) Stage: Claim Construction.
I am quoted on the book cover as follows:
Claim language and claim construction are probably the most frequently debated legal issues in patent prosecution and patent litigation respectively. This book offers an invaluable resource and desk reference for parties to those debates.
Soffer maintains a database of the claim terms which he uses for his work as a technical expert.
Oxford Press has compiled an impressive group of practical patent law books. My problem with the series the cost Oxford lists the book at $295. Amazon sells them for $270
.