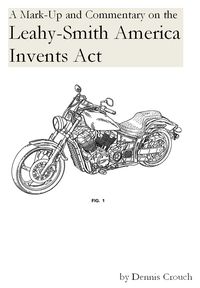 by Dennis Crouch
Contact me to purchase multiple-user license for your firm or group. (dcrouch@patentlyo.com)
President Obama recently enacted the Leahy-Smith America Invents Act, Public Law No 112-29 (H.R. 1249). The new law makes a large number of changes to Title 35 of the US Code and other related statutes.
I have received a number of requests for an electronic mark-up of the recently passed patent reform act – the Leahy-Smith America Invents Act. In response, I have created a 230 page volume in eBook format that is intended to serve as a helpful tool in understanding the implementation of the new provisions and should be especially helpful for those wanting to understand how the law has been changed.
Blackline Amendments and Commentary: Each provision of the United States Code substantively impacted by the new law is included in legal blackline format. In this traditional format, added text is underlined and eliminated text is formatted with a strikethrough.
Additional Material: The volume includes a chronological table of effective dates, excerpts from the House Judiciary Committee Report from June 2011, a Senate floor colloquy between Senators Leahy and Hatch attempting to explain implementation of the new provisions of section 102, and a table of contents. I have also provided commentary on the majority of the amended and added provisions in a way that guides readers through an analysis of the amendments.
Copyright Notice: I give away almost all my writings by posting them online, either to Patently-O or to the SSRN website. However, I have decided to charge a fee to access this volume. Profit on this work allows me to continue my academic pursuits without seeking corporate grants or clients and their consequential influence.
The price is $21 per copy (single user license). A special rate is avaiable for entities intersted in purchasing multiple user licenses. The sales-page allows payment using a credit card or paypal. Contact me to pay with some other form of payment. (dcrouch@patentlyo.com).