By Jason Rantanen
Dissenting opinions are generally considered to be good predictors of en banc review.  On one level, this is largely indisputable: most appeals that the Federal Circuit takes en banc involve a divided panel decision, and appellate practitioners are well aware that the chances of getting en banc review of an opinion that contains a dissent are much better than persuading the full court to review a unanimous opinion.  Of course, knowing that dissenting opinions are the more likely candidates for en banc review isn't particularly helpful by itself, since Federal Circuit judges pen more than thirty patent-related dissents each year. 
There's an extension of this theory, however, based on the idea that a high number of dissents on a particular patent law issue is a signal that the court may take that issue en banc in the near future.  There are several reasons why this extended theory is plausible: dissents may indicate that the court is cognizant of the importance of a particular legal issue; they may demonstrate awareness by the court of an intra-circuit split that it needs to resolve; they may also represent a pre-en banc dialogue between the judges.  Dissents are not costless, after all – sometimes they can be as much work or more as writing the majority opinion, and most judges do not write them as a matter of course. 
Empirical observations support this theory, at least for some grants of en banc review.  In the two years prior to the Federal Circuit's grant of en banc review of inequitable conduct in Therasense v. Becton Dickinson, for example, there were four dissents on the issue of inequitable conduct.  On the other hand, in the two years prior to the grant of en banc review in In re Seagate there were no dissenting opinions on the issue of willful infringement.  Thus while there may be value in keeping an eye on areas where dissents are common, it's by no means a perfect predictor.
With that caveat, I read through the patent-related dissents for the past two years to assemble a picture of recent Federal Circuit dissents.  All together, there were 64 of these dissents in panel opinions.  The following chart depicts the authors of those dissents.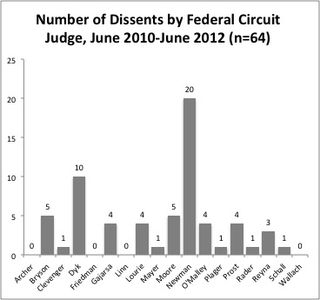 The next chart depicts the issues addressed by those dissents that arose with a frequency of greater than 1.  Note that there were four dissents that involved two issues.  In order to prepare the chart below based on dissenting opinions, I included only the first issue, but the second issue would also be relevant.  Those second issues were joint infringement(1), infringement(3), inequitable conduct(2), and doctrine of equivalents(2) (totals dissents addressing this issue in parentheses).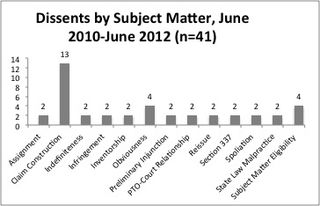 One nuance that is not conveyed by this chart is the degree to which the judges dissent on specific issues.  Two are noteworthy: Judge Dyk wrote four of the dissents on claim construction, while four separate judges (Bryson, Moore, Plager and Mayer) wrote the dissents on the issue of subject matter patentability.  Judge Newman wrote on a variety of issues.
The final chart depicts the issues that the Federal Circuit declined to consider en banc with at least one judge dissenting from that decision.  Note that for several of the issues included in the previous chart (state law malpractice claims, assignment, claim construction, and preliminary injunctions), the court has also declined to consider those issues en banc over the views of at least one judge.

These statistics hardly tell the whole story, of course.  Both litigation and appeals – let alone en banc review – are rare events, and thus attempting to divine highly predictive information is difficult.  Furthermore, two judges (Judges Newman and Dyk) together wrote almost half of the dissents.  Nevertheless, when combined with other insights, the above data may be helpful.  Claim construction and obviousness are hot topics (although last fall the CAFC declined to take claim construction en banc).  There is also significant disagreement among the judges on subject matter patentability, although they may not be willing address that issue through an en banc court given the Supreme Court's substantial interest in the topic.  In addition, my own sense is that there is more disagreement among the judges on the issue of the standard for preliminary injunctions than is apparent from the statistics alone.  It would not surprise me if the court were to grant en banc review on this issue – although admittedly it declined to do so recently.
What are your views on the next issue that the Federal Circuit reviews en banc?
For more on predicting en banc review generally, see Tracey E. George, The Dynamics and Determinants of the Decision to Grant En Banc Review, 74 Wash. L. Rev. 213 (1999).  For a discussion of Federal Circuit en banc practice, see Christopher A. Cotropia, Determining Uniformity within the Federal Circuit by Measuring Dissent and En Banc Review, 73 Loyola Los Angeles L. Rev. 801 (2010) (available at http://digitalcommons.lmu.edu/cgi/viewcontent.cgi?article=2720&context=llr).
Edit: minor correction to charts.