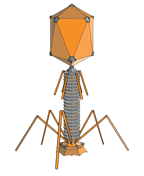 By Dennis Crouch
In re Droge (Fed. Cir. 2012)
In a unanimous panel opinion, the Federal Circuit has affirmed a decision by the Board of Patent Appeals and Interferences (now Patent Trials and Appeals Board) that Droge's claims are unpatentable as obvious when compared against the known prior art. In this case, it was the inventors' own previously published academic article that ended the case.
Droge' claimed invention covers a phage-mediated recombinant DNA method for use in eukaryotic cells and the inventor's prior paper involved a similar technique in prokaryotic cells. Droge presented a credible argument that differences in the cell types and protein co-factors meant that someone skilled in the art would not expect the prokaryotic technique to work in eukaryotic cells.
On appeal, the Federal Circuit found two problems with Droge's arguments: (1) the prior art does not need to create a true expectation that the new invention will work – rather, the question is whether it creates a "reasonable expectation of success." For that point, court quoted the 2009 Kubin decision: "Obviousness does not require absolutely predictability of success … all that is required is a reasonable expectation of success." In re Kubin, 561 F.3d 1351, 1360 (Fed. Cir. 2009)). (2) Because the expectation of success is a factual question, the Board's decision will only be overturned if that decision is unreasonable and lacks substantial evidence. That low evidentiary standard means that the Board's decisions are affirmed unless clearly wrong.
After rejecting Droge's arguments, the Federal Circuit then affirmed the rejection – finding the claims unpatentable.
Interesting – Dr. Peter Droge appears to be the owner of the patent application – having received an assignment from the other two inventors in 2002. The trio are also the listed inventors of U.S. Patent No. 7,491,539 that – according to the spotty USPTO assignment records – is co-owned by Dr. Droge and Boehringer Ingelheim.