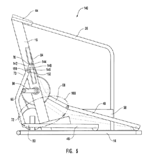 By Dennis Crouch
Icon Health & Fitness v. Octane Fitness (Fed. Cir. 2012)
Following claim construction, the district court ruled on summary judgment that Octane's elliptical machines did not infringe Icon's U.S. Patent No. 6,019,710. However, the district court refused to find the case "exceptional" under 35 U.S.C. § 285. Under the statute, a "court in exceptional cases may award reasonable attorney fees to the prevailing party." And, without that exceptional case ruling, the defendant had no opportunity to recoup the money spent defending the case.
U.S. patent cases follow the "American rule" that largely forbids fee shifting except in "exceptional" cases. In Cybor, the Federal Circuit described the adjudication process as involving two steps: First determining whether the case is "exceptional" and then determining the scope of fee shifting that is appropriate (if any). The court wrote:
The determination of whether a case is exceptional and, thus, eligible for an award of attorney fees under § 285 is a two-step process. First, the district court must determine whether a case is exceptional, a factual determination reviewed for clear error. After determining that a case is exceptional, the district court must determine whether attorney fees are appropriate, a determination that we review for an abuse of discretion. A district court abuses its discretion when its decision is based on clearly erroneous findings of fact, is based on erroneous interpretations of the law, or is clearly unreasonable, arbitrary or fanciful.
Cybor Corp. v. FAS Techs., Inc., 138 F.3d 1448 (Fed.Cir.1998) (en banc) (citations omitted). This process is akin to that used for enhanced damages where the court first considers whether the infringement was willful and then determines the scope of damage enhancement (if any). One key difference is that Section 285 provides the "exceptional" standard while the "willful infringement" requirement for enhanced damages was created by the court without any statutory key.
We call this the "American rule" of fee shifting because there is an alternate "British rule" that regularly awards fees to the prevailing party regardless of exceptionality of the case.
+++++
In a short nonprecedential opinion, the Federal Circuit affirmed the denial of Octane's exceptional case motion. Its opinion confirms the traditional stance that an exceptional case award requires significant evidence of misconduct and that denial of a motion for attorney fees is within the discretion of the trial court. "[W]e have reviewed the record and conclude that the court did not err in denying Octane's motion to find the case exceptional."
+++++
Of most interest, Octane requested that the court revisit (i.e., lower) the standard for determining whether a case is exceptional. As it must, the panel here rejected that request because it is bound by prior Federal Circuit precedent. However, an en banc request on this point may garner some traction with the court.
Traditionally, there has been something of a bias relatively in favor of exceptional case findings for prevailing plaintiffs but not for prevailing defendants. The bias comes about because a prevailing plaintiff can typically include out-of-court activities such as willful infringement as part of its proof of exceptional case while a prevailing defendant can typically only prove an exceptional case based upon a patent plaintiffs activities during litigation or when securing patent rights.
I like to divide the "bad" plaintiff activities leading to an exceptional case finding into three categories: (1) inequitable conduct during prosecution; (2) litigation misconduct (such as discovery violations or destroying evidence); and (3) bringing a subjectively and objectively baseless lawsuit. Brooks Furniture Mfg., Inc. v. Dutailer International, Inc., 393 F.3d 1378 (Fed. Cir. 2005). Thus, if a prevailing defendant seeks an "exceptional case" award based upon the filing of a worthless lawsuit, the plaintiff must provide clear and convincing evidence that the infringement claims were subjectively and objectively baseless. Globetrotter Software, Inc. v. Elan Computer Group, Inc., 362 F.3d 1367 (Fed. Cir. 2004); see also Reactive Metals & Alloys Corp. v. ESM, Inc., 769 F.2d 1578 (Fed. Cir. 1985) (The person seeking attorney fees must establish the facts showing exceptionality by clear and convincing evidence.)
In its brief, Octane argued that the "subjectively and objectively baseless" requirement is unduly limiting and should be reduced to a standard that considers whether the claim was "objectively unreasonable." Octane writes:
Patent litigation is expensive. According to a survey published in 2009 by the American Intellectual Property Law Association ("AIPLA") the median cost for a patent litigation in which the amount in controversy is from $1-25 million, through the end of discovery, is $2.5 million (inclusive of all costs). Unscrupulous large companies know this, and, unfortunately, can use patent litigation as a weapon against competitors, especially smaller competitors. Many smaller competitors simply do not have the financial resources or wherewithal to defend a patent infringement case, no matter how spurious the contentions. Judge Story once wrote that patent litigation is the "sport of kings." Larger companies can exploit this fact to the detriment of their smaller competitors.
Complicating matters, there is almost no economical or expeditious way for an accused infringer to extract itself from baseless litigation. Unlike certain forms of litigation ( e.g., securities litigation or antitrust litigation) rarely is a patent infringement action dismissed at the pleading stage. Rather, before a defendant accused of infringement has any hope of extricating itself from a litigation, often-times (as here) substantial discovery (both fact and expert), Markman briefing and hearing, and summary judgment briefing and hearing, must occur. By the time summary judgment is granted, substantial time is invested in the case not only by the parties, but by the district court, as well.
For their part, district court judges–who, in many instances, have no technical background and little familiarity with the patent system–are often faced with complex technology, difficult-to-read patent language and a body of case law that is both robust and nuanced. No matter how preposterous the merits of the infringement position may be, in order to reach a resolution on the merits, the district court judge must invest significant time and energy, to decipher the claim scope and understand the defendant's position. For these reasons, no matter how unreasonable the patentee's contentions, it is a rare district court judge who will have the courage to call a patentee's claims "frivolous" after the investment of time and effort necessitated by these cases.
For these reasons, and because of the inconsistent application of the "exceptional case" findings by district courts, Octane proposes that in the context of a prevailing accused-infringer, the legal standard for exceptional case should be re-evaluated. Octane respectfully proposes that a case should be deemed "exceptional" if the infringement claims asserted by the patentee were objectively unreasonable. If they were objectively unreasonable (as here), then the case should be deemed exceptional, and, unless equitable considerations counsel otherwise in the context of the particular case, fees awarded. Octane's rationale for this proposal are set forth below, as well as factors this Court might articulate to better assist district courts in identifying objectively unreasonable cases.
1. The Rationale for Fee Shifting Where a Patentee Asserts an Objectively Unreasonable Claim of Infringement Against a Competitor.
A patent grants to its holder a legalized monopoly. See Zenith Radio Corp. v. Hazeltine Research, Inc., 395 U.S. 100, 135 (1969) ("The heart of [the patentee's] legal monopoly is the right to invoke the State's power to prevent others from utilizing his discovery without consent"); see also Precision Instrument Mfg. Co. v. Auto. Maint. Mack Co., 324 U.S. 806, 816 (1945) ("a patent is an exception to the general rule against monopolies and to the right of access to a free and open market.") This is permitted because the overall good of encouraging innovation and promoting disclosure is thought to outweigh the anticompetitive effects of a time-limited monopoly. See generally Bilski v. Kappos, 130 S.Ct. 3218, 3255 (2010) ("even when patents encourage innovation and disclosure, 'too much patent protection can impede rather than 'promote the Progress of … useful Arts'.' "). But a patent is, nevertheless, by its nature anticompetitive, and for this reason, the ways in which a patentee may have granted, utilize and leverage a patent are not without limit and are often carefully scrutinized. See In re Ciprofloxacin Hydrochloride Antitrust Litig., 544 F.3d 1323, 1333 (Fed. Cir. 2008) (noting that patents are by nature anticompetitive and examining whether agreements improperly restricted competition beyond the exclusionary zone of the patent); see also Bilski, 130 S.Ct. at 3229 (noting "the tension, ever present in patent law, between stimulating innovation by protecting inventors and impeding progress by granting patents when not justified by the statutory design.")
Title 35 of the United States Code, § 285 authorizes such scrutiny in the context of infringement litigation and specifically authorizes an award of attorney fees in "exceptional" cases. But what is an "exceptional" case? This Court has endeavored to provide guidance to district courts as to the meaning of an "exceptional" case. This Court has indicated that fees are properly awarded in a variety of contexts, including "vexatious or unjustified litigation" or "frivolous filings." See, e.g., Takeda, 549 F.3d at 1388; Eon-Net LP, 653 F.3d at 1324; Waner v. Ford Motor Co., 331 F.3d 851, 857 (Fed. Cir. 2003); Bayer AG v. Duphar Int'l Research B.V., 738 F.2d 1237, 1242 (Fed. Cir. 1984). However, this Court has also indicated that absent litigation misconduct or fraud in securing a patent, a district court can award attorney fees only if the litigation is both: (1) brought in subjective bad faith and (2) objectively baseless. See, e.g., Eon-Net LP, 653 F.3d at 1324. These differing statements of the standard and other factors noted below, have led to inconsistent application of the exceptional case designation by district courts, particularly in the case of a prevailing alleged infringer.
Octane respectfully submits that commencement and maintenance of objectively unreasonable infringement contentions should be sufficient, standing alone, to deem a case exceptional. This standard is, in many ways, consistent with this Court's cases holding that unjustified or frivolous suits may be deemed "exceptional." Octane, however, advocates for reconsideration of the case precedent that indicates litigation misconduct or subjective bad faith should be required – in addition to baseless contentions – before finding a case exceptional.
Additionally, Octane proposes use of the words "objectively unreasonable" rather than "frivolous" or "baseless." As explained in more detail below, the words "frivolous" or "baseless" often imply misconduct by counsel, and perhaps even violation of Rule 11. Octane respectfully suggests that an action should not have to rise to the level of a Rule 11 violation, before a case could be deemed exceptional; else the remedies are duplicative.
Rather, patentees (including non-practicing patentees) asserting their legal monopoly should at least have to assert objectively reasonable causes of action, or else the risk of paying for the litigation should shift to the patentee, regardless of counsel's conduct. This is fair and consistent with the overarching goals of the patent system. The alternative–leaving patentees unchecked to assert thin-beyond-reason causes of action–has a huge anticompetitive impact on society and constitutes a gross injustice to innocent defendants.
As any defendant accused of patent infringement could attest, the mere existence of litigation typically has a detrimental impact on business, as customers become nervous about buying a product accused of infringement. This translates into higher costs for end customers as the patentee is able to prevent competition (often legitimate competition) and maintain monopoly prices. Meanwhile, the only recourse for a wrongfully accused infringer, apart from recouping fees under the present standard, is to bring a separate tort cause of action after conclusion of the Federal patent case in state court (which has even less experience with patent law than most district courts), or advance a cost-prohibitive antitrust action, if market share and other elements can be established. For these reasons, district courts need to know that they can find a case exceptional when a patentee fails to assert its legal monopoly responsibly and asserts and maintains objectively unreasonable causes of action.
Considerations a district court might consider when evaluating whether the patentee's contentions were objectively unreasonable include: (1) more than one claim element was missing in the accused device, (2) the case was resolved on summary judgment, (3) the patentee was not practicing the claimed invention, (4) the patentee's claim of infringement was based on a claim construction position that: (a) contradicted the prosecution history, or (b) read a limitation out of the claim entirely, or (c) was not rationally related to what was actually invented, (5) the patentee ignored or reargued the court's claims construction, (6) the accused device incorporated technology that pre-dated the asserted patent, in lieu of the technology disclosed in the patent-in-suit, and (7) the accused infringer communicated to the patentee near the start of the case an alleged design around or element(s) not present in the accused product; the patentee proceeds forward unreasonably; and the defendant ultimately prevails on that issue.
Octane submits that the above factors are examples of factors a district court may consider when determining if a case was objectively unreasonable. These factors encourage early candid discussions between the parties and potentially fosters early settlement, which has been recognized as a laudable goal of the judicial system. Foster v. Hallco Mfg. Co., Inc., 947 F.2d 469, 477 (Fed. Cir. 1991). Moreover, the standard appropriately shifts the risk of fees to a patentee that proceeds forward with weak claims having no reasonable chance of success. Accused infringers should not have to bear the heavy cost of patent litigation where patent owners proceed forward with no more than a scintilla of hope or a desire that the accused infringer will collapse when confronted with a weak claim.
To be clear Octane is not proposing that "exceptional case" means any case in which an alleged infringer prevails. But cases that are objectively unreasonable should be "exceptional", and not the norm. The cost of spurious infringement claims should be borne by the patentee, not the alleged infringer trying to compete fairly in the marketplace. In those instances (instances which would be even less frequent under this standard than at present), fee shifting is appropriate.
2. Exceptional Case Status Should Not Require Proof of a Rule 11 Violation.
By calling for a standard that allows for the award of fees in "objectively unreasonable" cases Octane is not necessarily arguing for a departure from the line of cases that would allow an award of fees in "frivolous" or "baseless" cases. However, Octane is proposing that the "exceptional" case standard of 35 U.S.C. § 285 should not be commensurate with a Rule 11 violation.
To begin, Rule 11 already includes provisions for sanctions, which would render Section 285 unnecessary if they require proof of the same conduct. Fed. R. Civ. P. 11. Beyond this, labeling a case "frivolous" such that it constitutes a violation of Rule 11 is not a step that most courts take lightly, not only because of the time and money investment in these cases, but also because labeling a case "frivolous" such that it constitutes a violation of Rule 11 requires condemnation of litigation counsel's conduct. Rule 11 provides, among other things, that by signing all materials submitted to the Court an attorney is representing that "the claims, defenses, and other legal contentions are warranted by existing law or by a non-frivolous argument for extending, modifying, or reversing existing law or for establishing new law. . ." If a case is "frivolous" under Rule 11, then a patentee's counsel must have acted inappropriately, a conclusion that most courts are loathe to reach.
A case should not have to rise to the level of a Rule 11 violation before it is deemed "exceptional." Pursuing objectively unreasonable claims (though perhaps not rising to the level of a Rule 11 violation), should not be the norm for patentees, and when it does occur and the patentee is unsuccessful, the case should bear the moniker of an "exceptional case."
3. Exceptional Case Status Should Not Require Litigation Misconduct Apart from Asserting an Objectively Unreasonable Claim.
Asserting an objectively unreasonable claim is a form of litigation misconduct. Nevertheless, no separate requirement for litigation misconduct should be necessary to establish an exceptional case. A patentee that pursues an objectively unreasonable claim but otherwise responds to discovery in a timely manner, does not destroy relevant documents, shows up to depositions, etc… should still bear the cost of its competitor's fees, when the unreasonably maintained cause of action fails. No additional litigation misconduct should be necessary.
Moreover, the Federal Rules provide for sanctions for specific litigation misconduct as it occurs. See e.g., Fed. R. Civ. P. 26(g)(3) (authorizing sanctions for improper certification of disclosures and discovery responses); Fed. R. Civ. P. 30 (providing for sanctions for failure to attend a deposition); Fed. R. Civ. P. 37 (authorizing motions and sanctions if a party fails to respond or make appropriate disclosure to discovery requests); see also 28 U.S.C. § 1927 ("any attorney. . . who so multiplies the proceedings in any case unreasonably and vexatiously may be required by the court to satisfy personally the excess costs, expenses, and attorneys' fees reasonably incurred because of such conduct"). To the extent a patentee (or its counsel) takes some action in litigation that is wrongful, drives up costs, or otherwise violates litigation rules, then the alleged-infringer may bring that conduct to the district court's attention at the appropriate time, and the district court should order appropriate sanctions, including fines. Encouraging district courts to deal with litigation misconduct in this manner, promotes professionalism and civility and better addresses the specific issues in a timely manner.
Though litigation misconduct could, of course, also be a factor in deeming a case "exceptional", Octane propose that it should not be a requirement for finding a case exceptional in the face of objectively unreasonable claims.
4. Exceptional Case Status Should Not Require Proof of Bad Faith.
In a patent case, the most an accused infringer can ever hope for is recoupment of attorney's fees and costs. Even in the rare cases where this is awarded, however, the accused infringer is not made whole. That party is still out the hundreds of hours dedicated by company personnel to the defense of the case (hours that could have been spent on research and development, sales efforts and other endeavors), not to mention the often-significant cost that the suit may have had on the accused infringer in the marketplace. Unlike on the patentee side, where the plaintiff may get treble damages against a willful infringer, the wrongfully-accused infringer has no such remedy against a patentee. The accused infringer is entitled to, at most, recoupment of reasonable fees.
Why is this significant? It is significant because under the law, subjective bad faith ( i.e., the willful, wonton or reprehensible nature of a party's conduct), while the critical factor in an award of punitive damages (which an alleged infringer cannot recover), is not a pre-requisite, in most statutory schemes, to an award of reasonable attorney fees. See, e.g., 42 U.S.C. § 1988 (allowing court, in its discretion, to award attorney fees to the prevailing party in civil rights actions); 15 U.S.C. § 15 (mandating the award of reasonable attorney fees for any person injured by violation of the antitrust laws); 42 U.S.C. § 3613 (allowing court, in its discretion, to award attorney fees to the prevailing party in fair housing actions). In this instance, the statute merely requires that the court find the case "exceptional" before awarding fees. It says nothing about requiring a showing of subjective bad faith. Octane submits that in view of the differences between punitive damages and reasonable attorney fees and the ways in which these are typically dealt with in statutes and by the courts, an alleged infringer should not have to make a showing of subjective bad faith in order to show that an objectively unreasonable case is "exceptional."
Regardless of intent (which is inevitably almost impossible to prove), a patentee that asserts an objectively unreasonable cause of action against its competitor should bear the risk of paying that competitors fees if it is unsuccessful.
This is an interesting problem. At the end of the case, a prevailing party has generally proven that the losing party's case is without merit (i.e., it lost). In that sense, at the end of the case, the position is subjectively, reasonably, and objectively baseless. The question is, however, at the beginning of the case (and to some extent throughout the case) did the position have some merit?
At first cut the proposed fee shifting appears to be a good mechanism for shifting risk onto plaintiffs who, in turn, will avoid filing baseless claims. A benefit of the current rule (objectively baseless) is that it is fairly clear and so the self-weeding is easy. Octane's multi-factor proposal makes this a much more difficult if not impossible task – meaning that the new rule would also end up discouraging some amount of valid patent claims.
Notes:
Octane is represented by Rudy Telscher and Kara Fussner of Harness Dickey's St. Louis office. Larry Laycock and his team at Workman Nydegger in Salt Lake represent Iconn.
There is a good chance that Octane won't push this case any further since it won the underlying decision (non-infringement) and that decision was affirmed on appeal.