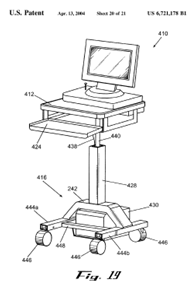 By Dennis Crouch
Flo Healthcare v. Kappos and Rioux Vision (Fed. Cir. 2012), Inter Partes Reexamination No. 95/000,251.
In an interesting three-way opinion, the Federal Circuit has affirmed the USPTO's rejection of Flo's reexamined patent claims. In the process, however, the court provided significant additional guidance for the PTO on when claim elements that do not include the magical word "means" should nevertheless be interpreted as means-plus-function elements. See 35 U.S.C. 112(6). Here, the court found that the claim term "height adjustment mechanism" as used in the context of the patent specification should not be interpreted as a means-plus-function element.
Senior Judge Plager wrote the unanimous majority opinion and also filed a concurring opinion with "additional views" regarding appellate review of PTO claim construction Judge Plager argued that Federal Circuit precedent is unclear:
[W]e now appear to have two contradictory lines of authority on the question of how this court reviews Board claim constructions—a deferential "reasonable" (arbitrary/capricious-type) review, and a no-deference "pure" law type review. [Compare In re Morris, 127 F.3d 1048 (Fed. Cir. 1997) with In re Baker Hughes, 215 F.3d 1297 (Fed. Cir. 2000).] The fact that the APA now governs our review of PTO decisions does not provide guidance on which is the right standard. This is because the APA itself provides one standard for "pure" questions of law—which are reviewed without deference—and different, more deferential, standards for questions of fact and for mixed questions of fact and law.
The question then becomes whether claim construction by the Board is to be considered a question of "pure" law—the way this court treats claim construction in district court litigation under Cybor—and thus to be reviewed without deference; or whether it is something else, a blend of law and fact and judgment—as the Supreme Court said in Markman, a "mongrel practice"—in which case it is at least arguably subject to the "arbitrary and capricious" standard of APA § 706. Interestingly, none of the cases applying the Baker Hughes no-deference standard has paused to explain why that is the preferable standard as a matter of law or policy, or how it relates to the review standard that the Board uses.
Three additional factors weigh relatively in favor of deference toward PTO claim construction decisions even if court claim construction decisions continue to be reviewed de novo. First, claim construction at the PTO is decided initially by technical fact finders (patent examiners) and then by mixed fact/law specialists (PTAB judges). Second, the PTO's form of claim construction "broadest reasonable construction" is a factual standard as is (virtually) any reasonableness judgment. Finally, the Supreme Court's placement of decision making authority with a judge rather than a jury (Markman) that led to the Cybor no deference standard is tangential to the PTO's role in claim construction. The decision makers in patent prosecution are defined by statute and codified rules rather than by the Supreme Court.
Judge Plager does not here suggest that one approach is correct, but does argue in favor of en banc rehearing to provide clear guidance to patentees and others concerned with patent rights. Judge Plager also offers an apology for the confusion since he authored the Morris opinion and was on the Baker Hughes panel.
This case involves a direct challenge to PTO claim construction decisions. The next step removed will involve collateral challenges during infringement litigation. In that case, what deference should be given to PTO conclusions at the time of the patent grant?
Judge Newman also agreed with the majority decision and provided her own additional views on the topic of the "broadest reasonable interpretation" standard used in patent prosecution. Judge Newman argues that the PTO should conduct claim construction applying the same standard as a court would later in litigation. The problem, according to Judge Newman is that the "broadest reasonable interpretation" is being applied as a standard of claim construction whereas it is actually merely an "examination protocol, not a rule of law."
In its implementation, the examiner starts with a blank slate on which the applicant has described the subject matter he wishes to patent. The examiner is charged with searching the entire world knowledge, and to decide what the applicant is entitled to claim, as a matter of law. See Manual of Patent Examining Procedure §706 ("After the application has been read and the claimed invention understood, a prior art search for the claimed invention is made."). In this demanding process, the examiner views the applicant's presentation broadly, in order to assure that all possibly relevant prior art is explored. That is the role of "broadest reasonable interpretation": it is an examination tool whereby the applicant and the examiner work together to determine and define the "invention" to be claimed.
Regardless of the path used to get there, Judge Newman argues, the claim construction is either correct or it is incorrect and it is the Federal Circuit's role to make that determination accurately and uniformly. Thus, Judge Newman sees an acute problem in situations such as this case "where the same issue can be finally adjudicated to different appellate outcomes, depending on the tribunal from which it came." An en banc hearing is also requested to remedy this "pernicious" conflict.
Notes:
The infringement lawsuit between these parties was filed in 2007 (the same year as the inter partes reexamination request). That litigation settled in 2010, but there is not a clear mechanism for settling inter partes reexaminations once they get rolling. The new inter partes reviews can be settled.