By Dennis Crouch
This morning, the USPTO provided official notice that Practitioner Registration No. 70,549 has been assigned and Robert Kent of Houston is now a patent agent. The PTO rolls have been steadily growing for the past 15 years – with about 10,000 new practitioners registering every 4-6 years. That rate is roughly triple of what it was throughout the 1980s and mid-1990s.
The chart below shows the number of currently registered US Patent Practitioners grouped by the number of years that they have been registered. The "baby boom" of patent practitioners that began 15 years ago will likely have some important impacts on career opportunities for patent attorneys who want to move into a senior or leadership role. Today, many patent practitioners with 10-15 years of experience are moving into leadership roles within their organizations.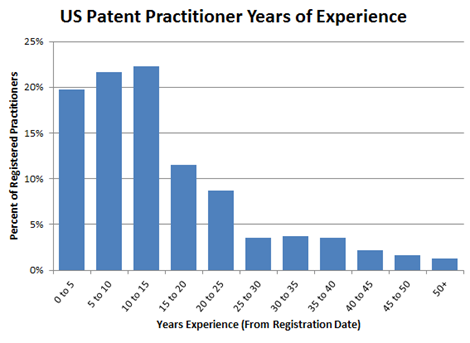 See also, Estimate: Fewer than 26,000 Active US Patent Attorneys & Agents and Are you a Patent Attorney Masquerading as a Patent Agent?