By Dennis Crouch
Yesterday I posted on the rising number of patent attorneys. There is also a rising number of patents and patent applications. The three tiered chart below shows the number of utility patents granted and nonprovisional utility applications filed for each fiscal year going back to 1981.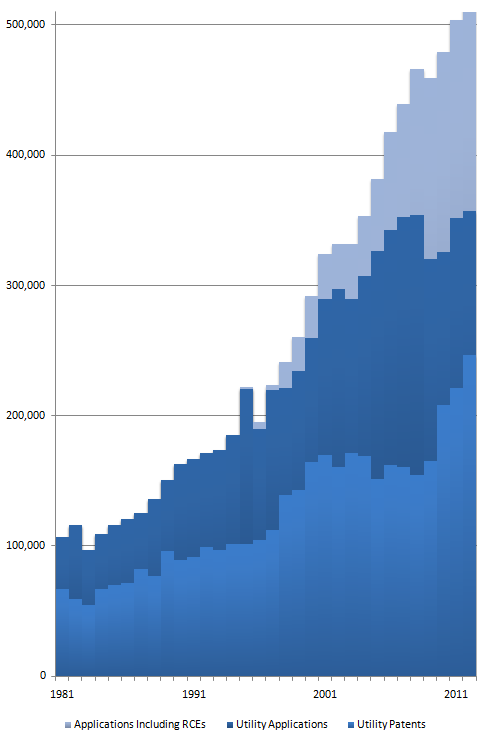 In addition to patents and applications, the chart also includes requests-for-continued-examination (RCEs) (and that form's predecessors). I include RCE filings here because the PTO has traditionally reported RCEs as applications whereas I tend to consider them an element of prosecution within an application. Thus, for FY2012, the USPTO will report 515k patent applications while I would calculate that number at a much more modest 357k.
RCE FILINGS: RCE filings grew at an exponential rate for much of the last decade. However, for the past three years there has been almost no growth in the number of RCEs being filed each year. A few years ago, it appeared that RCEs were serving a role in an informal collusion between examiners and applicants where the filing of an RCE provided the examiner with an additional "count" and the applicant quickly received an issued patent following the filing. For several reasons, that approach appears to have largely subsided. Today, only a small number of RCE filing lead to a quick patent issuance and in fact, most applications where RCEs are filed are eventually abandoned.